Sugar cane railways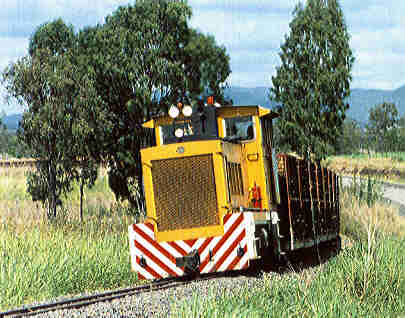 Photo: Brad Peadon
Introduction
Formerly known as sugar tramways, Queensland's sugar railways have come a long way since they were first established as steam and horse hauled tramways in the 1880s.
Today they represent what is probably the world's most advanced series of 610 mm gauge railways. Along a 1,750 km coastal strip stretching from just north of Brisbane to just north of Cairns you will find:
4,000 km of track
250 diesel-hydraulic locomotives weighing between 15 and 40 tons each
Trains of up to 2,000 tonnes and up to one kilometre in length
Runs of up to 119 km between pick-up point and the sugar mill
The articles listed below provide an insight into the history and current operations of these railways. They regularly feature in our journal Light Railways.
Note: Since these articles were written Moreton Sugar Mill at Nambour, and Fairymead Sugar Mill at Bundaberg, have closed.
by John Browning

An introduction to current sugar cane railway operations, together with a number of illustrations of locomotives and equipment.
by Robert F. McKillop

An introduction to Australia's sugar industry from the time of its foundation to the present day. This article explains the importance of the Colonial Sugar Refining Company, and the transition from the plantation system to the central mill system.

Whilst not specifically covering sugar tramways, it gives an historical background to the industry, which is now a major Australian user of special purpose railways.

A bibliography is included.
by Robert F. McKillop and John Browning

An overview of the development of Australia's sugar tramways, starting from the time when rivers were used in preference to tramways for the transport of sugar cane.

It includes a summary of the development of steam and diesel locomotives used in the industry.
by John Browning

A listing of all locomotives which have passed out of sugar industry ownership, and which are either thought to still exist, or have been scrapped after some form of preservation.
by John Browning

A listing of all locomotives owned by the Australian sugar industry in 2000.
by John Browning

A listing of all locomotives owned by the Australian sugar industry in 2005.
by I.R. Crellin

Adapted and updated from "Australian Sugar Tramways - The Challenge of the 1980s" published in Light Railways No.66, October 1979.
by John Knowles

An article published in Light Railways No.148, August 1999 describing attributes of four and six coupled steam locomotives used on Australian sugar tramways.