Books published by the LRRSA
LRRSA publications are the results of years of research, based on field investigations; interviews; and study of written material, including official documents. All (except Modernising Underground Coal Haulage) are printed on art paper, with numerous photographs, maps and diagrams.
Wherever possible, the photographs are carefully selected to illustrate all aspects of the industries, tramways, living conditions and scenery.
The maps are prepared in great detail.
Prices
All prices are in Australian dollars and include GST.
Overseas purchasers note: the prices include Australian Goods & Services Tax (GST) which amounts to one-eleventh of the quoted price. This will be deducted on all export sales. As currency exchange rates are volatile, purchasers should check the current rate prior to purchase, to avoid surprises.
The easiest way to pay for overeas purchases is to quote your credit card number. The credit card company will then do the currency conversion, and the amount will appear on your credit card statement in your own currency.
or:
---
Engaging the Giants
A history of sawmills and tramways of Tasmania's Southern Forests
By Scott Clennett
To be published by the LRRSA in July 2016.
Click here to see the exclusive Members Only pre-publication offer
This book describes a complex series of timber tramways which operated in southern Tasmania during the period 1850 to 1974.
It covers the area from Franklin (45 km south of Hobart) to Cockle Creek - the most southerly settlement in Tasmania, and includes Bruny Island. Details of the ships and barges which carried the products of the many sawmills in the area are given, together with an insight into the living conditions and the innovative methods that were used to solve many problems. Gauges of the timber tramways varied from 2 ft 6 in to 6 ft, but the most common gauges were 3 ft 6 in and 4 ft 6 in.
Over a dozen steam locomotives were used, including two Shays, and many of ingenious local manufacture. Three Hobart engineering firms supplied steam and internal-combustion locomotives of unusual design to many of the sawmillers.
The maps, prepared by Mike McCarthy, show the tramways, mills, roads, waterways, and contours.
Hard cover, 240 pages, A4 size 170 photographs, 21 maps, bibliography, references, and index.
Price A$60.00 plus postage.
[price to LRRSA members A$45.00 plus postage]
(Weight: 1300 gm)
Members received a special pre-publication offer with their renewal notices. Non-Members can purchase a copy at the members price, free of postage (a saving of $30) by taking advantage of the "Giant's Offer": One year's membership (including six copies of Light Railways) plus Engaging the Giants for just A$93.00*
Even Better! If you join the Society before May 20 and take advantage of the pre-publication offer, you will receive Light Railways 249 (June 2016) at no extra charge. That's a further $8 in savings!
Click here to become a member, receive this fine book, six (or seven!) copies of our magazine (delivered to your mail box) plus substantial discounts on the other publications available from our online shop
* $93.00 is the rate for Australian members wishing to receive the printed magazine. Follow the link to see the prices for the PDF version of the magazine, and rates for overseas members. Pre-publication offer expires on July 20, 2016.
---
Simsville and the Jarrah Mill
Myall River State Forest, New South Wales
By Ian McNeil
ISBN 978-0-909340-52-0
The Myall River State Forest, between Buladelah and Stroud, lies about 170 km north of Sydney. With its dense hardwood tree cover – known as the Purgatory Scrub – it was very tempting to timber companies, but its rugged terrain proved a great obstacle. This book describes the efforts of a succession of five companies, to exploit the timber. It involved the establishment of a sawmill and logging tramways in the State Forest, and outlet tramways to the port of Allworth, on the Karuah River, from where the timber was taken to Sydney in shallow-draft steamers.
A village, known as Simsville, grew up around the sawmill, with up to 100 residents. The sawmill operated from 1912 to 1947 and the book records the names of over 300 people who were associated with the operation.
The author – Ian McNeil – started research on this book 30 years ago, interviewing many former employees and residents, and the book gives an insight into the social life of Simsville, as well as the working conditions. He also carried out extensive field research, and as a result the book contains detailed maps, showing the tramway routes, the bridges, earthworks, and zig-zags. The country was mountainous, and although the tramways were well engineered, they were steeply graded and sharply curved. To work them three steam locomotives, Slippery Sam, Soward, and Daddy Long Legs, were used. They were of the Climax geared type, designed to work on rough track at very low speed.
Soft cover, 96 pages, A4 size, 55 photographs, 12 maps and diagrams, references, and index
Price A$29.00 plus postage.
[price to LRRSA members A$21.75 plus postage]
(Weight: 490 gm)
Orders can be placed through the LRRSA Online Shop
---
The McIvor Timber & Firewood Company
Tooborac, Victoria
By Frank Stamford
ISBN 978-0-909340-51-3
This book presents the history of the McIvor Timber & Firewood Company. The company operated from 1906 to 1927. Its main product was firewood for the Bendigo and Melbourne markets. To transport the firewood the Company built 5 ft 3 in gauge tramways from Tooborac to Mitchell's Creek, Puckapunyal, Moormbool West and Cherrington.
The tramways were operated by two Baldwin 2-6-0 locomotives, and later an ex-VR W class 4-6-0. This book records the history and routes of these tramways, and gives details of remains which were found on extensive site inspections made between 1971 and 1986. Most of this area is now occupied by the army and is not accessible.
At the time the Company operated, there were settlements at Major's Line and Moormbool West. This book gives an insight into the activities of these settlements, including social events, which the McIvor Company supported. The book includes over 103 photographs, 23 maps and diagrams, references, and index.
Soft cover, 104 pages, A4 size, 103 photographs, 23 maps and diagrams, references, and index.
Price A$30.00 plus postage.
[price to LRRSA members A$22.50 plus postage]
(Weight: 485 gm)
Orders can be placed through the LRRSA Online Shop
---
Powelltown Tramway Centenary 1913-2013
By Mike McCarthy and Frank Stamford
This is a 32 page A4 publication to commemorate the centenary of the Powelltown Tramway, and released in conjunction with the Upper Yarra Valley Historical Society's celebrations on 17 November 2013. It was included as a members' supplement to
Light Railways
No.233, October 2013, and all financial members of the Society received a copy as part of their subscription.
The booklet was built around the original survey plans for the tramway, and is a stunning example of cartography. A series of double page spreads show course of the line from Yarra Junction through Powelltown and "The Bump" tunnel, and then up beyond New Ada as far as Starlings Gap.Alongside the maps are gradient profiles, and there are numerous photographs. While a number of the photos may be well known, their reproduction in this publication is excellent, better then ever seen before.
Soft cover, 32 pages, A4 size, 44 photographs, 10 double page maps with gradient profiles, covering the line from Yarra Junction to Starlings Gap and New Ada Mill.
Price A$10.00 plus postage.
[price to LRRSA members $7.50 plus postage]
(Weight: 165 gm)
Orders can be placed through the LRRSA Online Shop
---
Riches beneath the Flat
A history of the Lake George Mine at Captains Flat
By Ross Mainwaring
ISBN 978-0-909340-49-0

The mining town of Captains Flat has a fascinating history that has not previously been recorded in detail. It was one of the many gold mining prospects that had a brief moment of glory in the 1880s and more substantial base metal mines were established there in the late 1880s. An injection of English capital in 1896 raised hopes of prosperity and large processing facilities and a steam operated tramway were established. Unfortunately, the processing technology of the time could not handle the silver-lead-zinc sulphide ores and the mine closed in 1899.





For The development of the 'selective flotation' process during the early twentieth century, particularly at Broken Hill, brought new hope for development of the ore bodies at Captains Flat. Again English capital came to the fore and the company Lake George Mines Limited was floated in 1927 to develop the field. The onset of the Depression and negotiations over the construction of the branch railway line from Bungendore to Captains Flat delayed the start of production until 1939.

Ross Mainwaring's book covers the history of Captains Flat and its mines through to 1939 in some detail, but his primary focus is on the operation of the Lake George Mine from 1939 through to its closure in 1963. Using company records at the Noel Butlin Archives of Business & Labour at the Australian National University and extensive newspaper research, Ross has drawn together a fascinating history of the company, the men who mined and transported the ore, and the community of Captains Flat during these years.

Particular attention is given to the underground railways used to haul the broken ore from the stopes to the main vertical shaft for conveyance to the surface, but there is also extensive coverage of the transport of the ore concentrate by rail from Captains Flat to Port Kembla for export. In short, it is a thoroughly researched and well-written history that will provide readers with an enhanced understanding of the working conditions and challenges of the mine and its role in sustaining the community.



Soft cover, 104 pages, A4 size, 62 photographs, 12 maps and diagrams, references, and index.
Price A$29.70 plus postage.
[price to LRRSA members $22.28 plus postage]
(Weight: 485 gm)
Orders can be placed through the LRRSA Online Shop
---
Tall Timber and Tramlines Queensland
By John Kerr
ISBN 978-0-909340-46-9

This book describes all the Queensland timber tramways known to the author when the manuscript was released for publication in 2005.

For climatic and other reasons Queensland had fewer timber tramways than most other Australian states. As a result it is possible in this book of 100 pages to mention all of those known to exist when the manuscript was prepared. All were closed by the end of the 1930s.

They ranged from the engagingly primitive to the well engineered Laheys' Canungra Tramway.

The author, the late John Kerr, was well qualified to write this history. In 1998 he completed the Forest Industry Heritage Places Study, Sawmills and Tramways, South Eastern Queensland, for the Queensland Department of Environment. This was a detailed study of archaeological remains of timber industry activities in south-east Queensland.

John Kerr was a consultant statistician with the CSIRO, but became an active historian, specialising in railways, and the sugar, mining and timber industries of Queensland. He was a Fellow of the Royal Historical Society of Queensland and of the Federation of Historical Societies, a Founder of the Professional Historians Association (Queensland), and was the author of many books on Queensland history.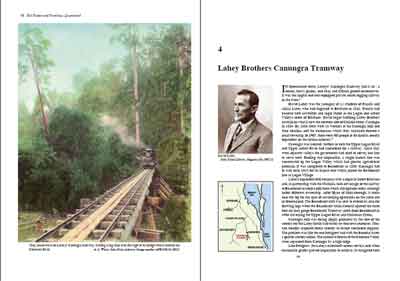 Photographs
Many of the photographs have not previously been published. They include reproductions of six superb hand-coloured photographs of Laheys' Canungra Tramway dating from c.1912. One of these, showing a Shay locomotive crossing a bridge is reproduced as a double-page spread, two others are full page reproductions.

Soft cover, 104 pages, A4 size, 90 photographs, 28 maps and diagrams, references, bibliography, and index.
Price A$29.95 plus postage.
[price to LRRSA members $22.46 plus postage]
(Weight: 485 gm)
---
Elrington
The 'Peter Pan Colliery' 1927 - 1962
By Ross Mainwaring
ISBN 978-0-909340-47-6
Elrington is a history of a coalmine near Cessnock NSW, established by the Broken Hill Proprietary Co. Ltd in 1927 to supply coal to its Newcastle steelworks. BHP's intention was to pioneer the use of modern coal extraction methods at Elrington.
This book describes the technology used, and the problems the company faced in introducing it. The underground 3ft 6 in gauge railways using battery locomotives are described, as well as the standard-gauge steam operated railway which served the mine.
The author also looks at the working conditions and social life of the miners and their families. For various reasons Elrington colliery never achieved its planned output of 3000 tonnes a day. Like Peter Pan, Elrington colliery never grew up.
Soft cover, 96 pages, A4 size, 64 photographs, 9 maps and diagrams, references, bibliography, and index.

Price A$25.95 plus postage.
[price to LRRSA members $19.46 plus postage]

(Weight 490 gm)
---
Shays, Crabs and Phosphate
A History of the Railways of Christmas Island, Indian Ocean
By David Jehan
ISBN 978-0-909340-45-2
THIS BOOK IS OUT OF PRINT
Christmas Island, Indian Ocean, is located 1300 km south of Singapore and 2600 km north-west of Perth. It is a small island, the length of the coast being only 80 km. It became an Australian external territory in 1958. Prior to that it had been under the administration of the then British colony of Singapore.
For most of the twentieth-century the major activity was the mining of phosphate deposits, for the manufacture of superphosphate.
To transport the phosphate to the port, a system of industrial railways was built, on gauges of 2 ft (610 mm) and 4 ft 8½ in (1435 mm). For such a small island, the variety of locomotives - both steam and internal-combustion - was remarkable. They came from Australia, Canada, Germany, the United Kingdom and the USA. As this book explains operating and maintaining them in such a remote location provided a constant challenge. Included were three 70 ton geared Shay locomotives, a type of locomotive rarely found outside America.
But this book does not just describe the locomotives, and the operation of the railway. It explores the way the industry was managed, the living and working conditions, the use of passenger trains, and the unique problems caused by the huge population of crabs living on the island.
Locomotives
This book gives detailed information on the histories of the forty locomotives which worked on the island. These included twenty-three 2 ft gauge internal-combustion locomotives from Orenstein & Koppel, Robert Hudson, Baguely, and Hunslet, with the oldest dating from around 1912. On the standard gauge there were seven steam locomotives, from Lima, Peckett, and Robert Stephenson & Hawthorn. There were ten standard gauge internal combustion locomotives, from Orenstein & Koppel, Whitcomb, Canadian Locomotive Company, and General Electric.
Passenger vehicles ...
Although the purpose of the railway was carrying phosphate, there were also some facilities for passengers, including stations. There was a Drewry railcar, and three Wickham railcars with five trailers. The main purpose of the Wickham railcars was to provide rolling stock for the "School Train". A few flat wagons were also converted to passenger cars. Amongst other things, these were used for the "Picture Train", to take people to the island's cinema. There were also two strange vehicles for carrying passengers on an incline.
The author
This is David Jehan's third major book. David is a railway engineer, and his previous books include Rack Railways of Australia, and Men, Steel and Iron.
The book has been written using the extensive records held by the National Archives of Australia, and information from numerous former Christmas Island phosphate staff now living in Australia and New Zealand. It documents what and how they operated and taps into the social history of the island to give an understanding of the people that were involved.
Soft cover, 136 pages, A4 size, over 160 photographs, 14 maps and diagrams, references, bibliography, and index.

Price A$33.00 plus postage.
[price to LRRSA members $24.75 plus postage]

(Weight 700 gm)
---
Furnace, Fire and Forge
Lithgow's Iron and Steel Industry 1874 - 1932
By Bob McKillop
ISBN 0 909340 44 7
Contributions by Ray Christison, Ian Holt, David Jackson, Jim Longworth, Bruce Macdonald, Jeff Moonie, Greg Patmore, Jerry Platt, John Prattis, Don Reynolds, Ian Rufus, Frank Stamford and Alan Watson
This book is the product of a systematic and in-depth research project. It tells the story of Australia's first and only inland heavy industrial centre, from its beginnings with the opening of New South Wales' Great Western Railway into the Lithgow Valley in 1869 and the establishment of the first blast furnace there in 1874, to the final closure of the iron and steel works in 1932.

Furnace, Fire and Forge provides new insights into the pioneers of Australia's iron and steel industry and tells the story of its operations from the perspective of the men (and the handful of women) who toiled at the blast furnaces, the rolling mills, the open-hearth steel furnaces, the collieries and quarries that fed the furnaces, the railways that transported the materials and the administrative offices that supported these operations.

There are separate chapters on the mines and quarries that provided raw materials to the works; and the industrial railways that transported the materials around the site.
The concluding chapters review the lessons that have emerged from the Lithgow experience and how the community responded to the closure of its 'life blood'.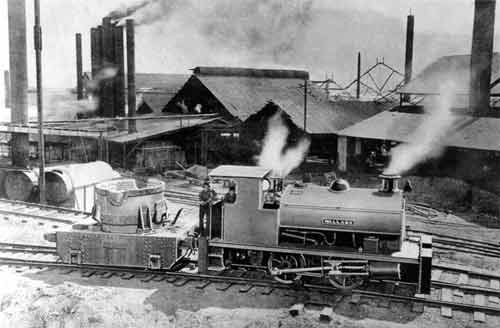 One of the twenty locomotives used by G&C Hoskins and its predecessors at Lithgow steel works and associated plants. The works railways, and those of the limestone quarries, iron ore mines, and collieries which supplied the raw materials, are described and illustrated in the book.

Hard cover, 320 pages, A4 size, over 250 photographs, maps, diagrams, references, bibliography, and index.
A$59.95 plus postage.
[price to LRRSA members $44.96 plus postage]
(Weight 1,650 gm)
---
Built by Baldwin
The Story of E. M. Baldwin & Sons, Castle Hill, NSW
By Craig Wilson
ISBN 0 909340 42 0
This is the history of E. M. Baldwin & Sons, the most innovative and successful builder of diesel industrial railway equipment in Australia, best known for their introduction to the Australian sugar industry of the bogie canefield locomotive.
This book is not only the story of the development of Baldwin canefield locomotives. It also describes underground, shunting, and fairground locomotives, brake wagons, and the diverse range of engineering work undertaken by the Company, from stainless steel vessels to broad-acre agricultural tractors.
From the mid 1950s Australia's sugar millers were rapidly replacing their steam locomotives with diesels, with the market split between two large companies - Clyde Engineering Co. Pty Ltd, and Commonwealth Engineering (Queensland) Pty Ltd.
The family firm of E. M. Baldwin & Sons would seem to have been a most unlikely competitor. Still reflecting its farming origins with large scale egg production, its small general engineering business specialised in custom designed stainless steel food preparation equipment.
But in 1962 the firm was approached to build a small canefield locomotive, and a year later it started its pioneering work with flame-proofed rail vehicles. Numerous diesel locomotives followed. The book includes a detailed production list of the Company's locomotives, and scale drawings of many of its locomotives.
The author has had direct access to the Company's owners, and to many of the records of the Company, so this is the definitive history of the Company, and gives much detail on the performance of individual locomotives.
Hard cover, 160 pages, A4 size, 148 photographs, and 16 diagrams, references, bibliography, and index.
A$44.00 plus postage. (Weight approx. 950 gm)
[price to LRRSA members $A33.00, plus postage]
---
The Aramac Tramway
By Peter Bell & John Kerr
ISBN 0 909340 43 9
THIS BOOK IS OUT OF PRINT
One hundred years ago every town in Australia wanted a railway. When the only alternative was horse drawn transport over roads which were often almost impassable, the railway provided a life line.
Aramac, almost in the centre of Queensland, was no exception. Aramac township was established in 1869, with the opening of a hotel. Many other business soon followed, and by 1879 one visitor described it as one of the prettiest and best kept towns in Queensland. Its prime reason for existence was to serve the vast sheep stations then being established in this area.
With the opening of the first railways to this area in the 1880s, Aramac fought to be connected, but lost. Aramac, with a population of perhaps 400, was unique amongst inland Queensland towns in taking on the task of building its own line.
This is the story of the Aramc Tramway, 41 miles of lightly built 3 ft 6 in gauge track, with little traffic. It opened in 1913, and for the next 62 years it provided a major challenge for the Shire Council to keep it going. Miraculously it survived until 1975. By that time all of its traffic could be easily handled by road.
Soft cover, 48 pages, A4 size, 49 photographs, 5 maps and plans, references, bibliography, and index.
A$15.00 plus postage. (Weight 350 gm)
[price to LRRSA members $11.25 plus postage]
---
Mountains of Ash
A History of the Sawmills & Tramways of Warburton and District
By Mike McCarthy
ISBN 0 909340 41 2
Sixty-six kilometres east of Melbourne, and nestled deep in a valley below towering timbered slopes, for over a century Warburton has been a popular weekend destination for those attracted by its natural beauty and tranquility.
During the period prior to the First World War it was the centre of Victoria's biggest sawmilling district.
It saw the establishment of 66 major sawmills and many smaller mills in the bush surrounding the town. They were linked to the railway at Warburton, Millgrove, and Wesburn through a complex system of wooden and steel-railed tramways. In total over 320 km of tramways could be found in the bush surrounding Warburton. Horses, locomotives, and rail tractors hauled the timber, and the tramways included many spectacular bridges, cable-worked haulages, sharp curves and steep grades.
The tramways provided picturesque walking tracks for holiday makers, and attracted many first class photographers.
This book includes 320 photographs. Almost all of these have not been published before.
Fifty-two of the photographs are printed as duo-tones, a special process which increases the tonal range of the photograph.
Fourteen of the maps are printed in four colours, whilst most maps and diagrams are printed in two or three colours.
Hard cover, 312 pages, A4 size, 280 photographs, 50 maps, various diagrams, references, bibliography, and index.
A$59.95 plus postage. (Weight 1,500 gm)
[price to LRRSA members $A44.96 plus postage]
---
Laheys' Canungra Tramway
By Robert K. Morgan, revised by Frank Stamford
ISBN 0 909340 40 4
This booklet describes Queensland's largest timber tramway. It was originally published as a special edition of Light Railways, (No.54, Summer 1975-76).
The new publication is completely revised, with additional material, more photographs and maps, and a larger page size to give better presentation.
Laheys Canungra Tramway was a 3 ft 6 in gauge timber tramway in south-east Queensland which operated from about 1903 to the early 1930s. It used one B class Climax locomotive, and two A class and one B class Shay locomotives. The tramway ran through superb scenery, and included one tunnel through rock, and a 1 in 12-1/2 (8%) grade for over half a mile.To add more interest, it had a very basic T Ford railcar, an even more basic Commer railcar, and a home-made passenger car.
Soft cover, 32 pages plus 4 page card cover, A4 size, 26 photographs, 3 maps and 2 diagrams, references, and index.
A$9.95 plus postage. (Weight 230gm)
[price to LRRSA members $A7.46 plus postage]
---
The Innisfail Tramway
The History and Development of the Geraldton Shire Tramway and the Mourilyan Harbour Tramway
By John Armstrong & G. H. Verhoeven
ISBN 0 909340 38 2 (hard cover)
Innisfail is 80 km south of Cairns, and the largest community between there and Townsville. It is an extremely scenic area situated in the lush coastal belt of tropical North Queensland in one of the wettest parts of Australia. The 2 ft gauge Innisfail Tramway played a major role in the colourful history of the town.
Built one hundred years ago by the Geraldton Shire Council, it was subsequently taken over and operated by the Queensland Railways until they sold it to local sugar mills in 1977. The tramway carried thousands of passengers including shoppers to and from town, wharf labourers to work, racegoers to and from the course, and picnickers on pleasure trips. It carried vast quantities of bananas, timber, coal, agriculture, meat and parcels.
There were 13 steam locomotives, 13 passenger cars, four vans, and about 250 goods vehicles. Over the years the role of the tramway changed, and today the surviving parts of it are operated exclusively as privately owned sugar carrying lines. The authors have interviewed local residents and former members of the tramway staff as well as searched through official documents and newspaper reports, to produce a book which is both historically accurate, and brings to life a vanished era.
The Innisfail Tramway was first published by the Australian Railway Historical Society Queensland Division in 1973.
This new edition published by the LRRSA is completely revised, updated, and produced in the style of LRRSA books. It contains much additional material in text, photographs, maps and diagrams.
Hard cover, 128 pages, A4 size, 99 photographs (12 in colour), 8 maps and 14 rolling stock diagrams, with dust jacket.
$A37.90 plus postage. (Weight 850 gm)
[price to LRRSA members $A28.43 plus postage]

Soft cover, 128 pages, A4 size, 99 photographs (12 in colour), 8 maps and 14 rolling stock diagrams, with dust jacket.
A$29.95 plus postage. (Weight 550 gm)
[price to LRRSA members $A22.46 plus postage]
---
Modernising Underground Coal Haulage
BHP Newcastle Collieries - Electric Railways
by Ross Mainwaring
ISBN 0 909340 36 6
This book describes Broken Hill Proprietary Company Ltd's (BHP) Burwood, Lambton, and John Darling collieries in the Newcastle area of New South Wales. It records the introduction of mechanical coal cutters, coal loading machines, and the use of battery and trolley-wire electric locomotives, mostly on 3 ft 6 in gauge track. It also describes the operating procedures and difficulties involved with working trains in confined conditions on steep grades. On a lighter note, it describes the activities of playful train crews, and the unexpected hazards associated with underground tea trolleys!
In the early 1920s BHP decided that modernisation of the notoriously conservative coal industry was essential. Newcastle steelworks had been temporarily closed due to the inability of the Company to meet competition from imports. The high cost of coal was one reason for this. Until this time, underground coal mines used manual coal extraction, and transport by small coal skips hauled by horses and endless rope. BHP made the decision to own their own coal mines, and make the operations as efficient as possible.
Soft cover, 60 pages, A4 size, 18 photographs, 13 maps and diagrams.
A$16.50 plus postage. Weight 245 gm.
[Price to LRRSA members $A12.38 plus postage)
---
Settlers and Sawmillers,
A History of West Gippsland Tramways and the Industries they Served 1875-1934
by Mike McCarthy
ISBN 0 909340 37 4
With the opening of the Gippsland railway to Sale, Victoria, in 1879 the dense forest in West Gippsland provided a valuable resource, which sawmillers were quick to exploit. There was an intense burst of timber production as farmers, seeking to clear their land, worked in partnership with sawmillers, to take advantage of a burgeoning demand for timber in Melbourne. In time the process saw the clearing of West Gippsland to the state that we now know it, and the growth of dairy farms across what had previously been densely forested hills. Between 1875 and 1900 at least 130 sawmill sites were worked in this area, between Beaconsfield and Trafalgar. They were connected to the main towns and railway by tramways using mostly wooden rails. This network of trams, and their associated industries, provides the underlying framework of this book, which explores the relationship between the settlers and the sawmillers, which was so important in establishing agriculture in Gippsland.
Settlers and Sawmillers is a soft-cover reprint of the book first published in 1993.
Soft cover, 168 pages, A4 size, 96 photographs - mostly nineteenth century gems, 17 maps and diagrams - including seven in two colours, 6 graphs, one locomotive diagram, and 37 cameo images from the turn of the century.
A$31.90 plus postage. (Weight 700 gm)
[price to LRRSA members $A23.93 plus postage]
---
Arsenic and Molasses
A Pictorial History of the Powelltown Tramway and Timber Milling Operations
by Frank Stamford
ISBN 0 909340 34 X (Soft cover edition)
ISBN 0 909340 35 8 (Hard cover edition)
When the railway from Lilydale to Warburton was opened in 1901 it led to the rapid development of the timber industry in that area. Until 1912 this was in the hands of small operators. In that year a large company with major shareholders in Western Australia and New Zealand was formed to exploit the newly developed Powell process of timber preservation.
The process involved the heating of timber in a solution containing molasses, water, and other ingredients, including arsenic to control white ants. To use the process economically involved the building of a large sawmill and a company town. The Company chose a site 10 miles from Yarra Junction, and named it Powelltown. To provide transport the Company built narrow-gauge steam operated tramways through the bush. The Powell process proved a failure, but the timber milling operations centred on Powelltown remained. This book provides an illustrated history of those operations, and an insight into a way of life long since gone.
Arsenic and Molasses is a companion volume to the LRRSA book Powelltown.
It is designed in the same style, but its emphasis is on photographs, with brief text to introduce each of the eleven chapters, and to explain the illustrations. It is intended to complement Powelltown.

All the photographs are different to those published in Powelltown.
Many of the photographs are full page windows-to-the-past, from photographers such as John Buckland, Rev. Brenton, Fred Rayment and others.
Hard cover, 88 pages, A4 size, 103 photographs, 7 maps and diagrams, with dust jacket and end papers. The end papers consist of two different A3 size photographs depicting Coffee Pot at work in the bush eighty years ago.

Print run limited to 1,000 and will not be reprinted.
$A36.00 plus postage. (Weight 650 gm)
[price to LRRSA members $A27.00 plus postage]
Soft cover, 88 pages, A4 size, 103 photographs, 7 maps and diagrams.
A$24.00 plus postage. (Weight 470 gm)
[price to LRRSA members $A18.00 plus postage]
---
Bellbrakes, Bullocks & Bushmen,
A Sawmilling and Tramway History of Gembrook 1885-1985
by Mike McCarthy
ISBN 0 909340 33 1
Following the opening of the 2 ft 6 in gauge railway to Gembrook (64 km east of Melbourne) in 1900 timber milling became an important industry in the forest to the east of Gembrook. At least sixty sawmill sites were worked in the region, and for some time sawmilling was the largest single employer in the area. Together they produced a huge volume of timber, not only to satisfy the needs of metropolitan Melbourne, but also to provide fruit cases for the district's orchard industry.
A fascinating network of tramways, providing the vital transport link to the railhead, fanned to the east and north of the town. The construction and operation of these lines is covered in detail but it is integrated with the history of the mills that led to their existence, and the people that worked in the industry or lived in the bush at the mills.
Bellbrakes, Bullocks and Bushmen is a reprint of the book first published in 1987, which has been out of print for many years.
Soft cover, 104 pages, A4 size, 71 photographs, 17 maps and diagrams.
A$26.00 plus postage. (Weight 500 gm)
[price to LRRSA members $A19.50 plus postage]

---