LIGHT RAILWAY NEWS
No.121 December 1997
Published since 1977 by
The Light Railway Research Society of Australia Inc
Hon.Editor: John Browning, PO Box 5646, ROCKHAMPTON MAIL CENTRE, Q. 4702
E-mail: ceo8@rocknet.net.au
TWENTIETH ANNIVERSARY ISSUE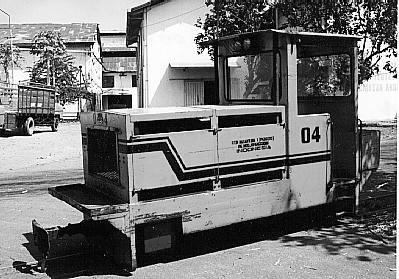 A unique Australian export - 700mm gauge E M Baldwin Model 12DM 6wDM 04 (5281-8-74 of 1974) at Mojopanggung Sugar Mill, Tulungagung, Java, Indonesia, on 4 August 1997.
Contents
TWENTIETH ANNIVERSARY GUEST EDITORIAL

NOTES, CORRECTIONS AND COMMENTS

RESEARCH COLUMN

LOCOMOTIVE, ROLLING STOCK & EQUIPMENT MANUFACTURERS

AUSTRALIAN CAPITAL TERRITORY

NEW SOUTH WALES

QUEENSLAND

SOUTH AUSTRALIA

TASMANIA

VICTORIA

WESTERN AUSTRALIA

OVERSEAS
---
TWENTIETH ANNIVERSARY GUEST EDITORIAL
Light Railway News No.1 was published in December 1977, and was printed by Mike McCarthy from Gestetner stencils typed by John Browning. John had written to Council a short time before offering to start a newsletter to take over the role previously carried out by the "News, Notes and Comments" section of Light Railways. The Council at that time took a great leap in faith to authorise a publication which had not been budgeted for and which increased the number of mailouts to six per year.
Since then, the publication has been seen in a variety of guises, but it has maintained a very good record of regular publication, and it has attempted to provide a complete and reliable record of Australia's narrow gauge and industrial railways. It has not always completely succeeded in that endeavour, but the considerable success it has enjoyed has been as a result of a joint effort between Editors, State News Contacts, contributors, and a hard working production and distribution team. On behalf of the Society, thanks to them all.
In 1977, the Queensland Government Railways still ran a 2 ft gauge railway, steam locomotives still hauled sugar cane in Queensland, and Puffing Billy was still owned by Victorian Railways. Groups of young (and not so young) men in Brisbane, Wollongong and Perth had discarded narrow gauge locomotives stored in a variety of locations and dreamed of operating museums. There have been many changes since then. The next 20 years will surely be as exciting.
A BRIEF HISTORY OF LRN
Most issues of LRN have been edited by either John Browning or Peg & Geoff Hayes, but there have been a number of acting editors who stepped into the breach when needed. Other very significant contributors in the history of LRN have been Mike McCarthy, who has been responsible for arranging the printing of most issues, and Arthur Winzenried who word processed many issues in the early 1980s. The State News Contacts listed on page 2 have always been prepared to be of assistance, with Frank Stamford in particular a great supporter ever since the inception of the publication. Finally the unsung work of the distribution team should not be forgotten.
LRN     Editor(s)           Production                     
co-ordinator(s)                

1-3     J Browning          M McCarthy               (a)   

4-10    J Browning          J Browning & M McCarthy  (b)   

11      J Browning          F Stamford               (c)   

12      R Ellis             F Stamford               (c)   

13-15   J Browning & R      F Stamford               (c)   
        Ellis                                              

16      J Browning          F Stamford & M McCarthy  (d)   

17-36   J Browning          A Winzenried & M         (e)   
                            McCarthy                       

37-55   J Browning          M McCarthy               (f)   

56      F Stamford, P       M McCarthy               (d)   
        Evans & M McCarthy                                 

57-58   J Browning          M McCarthy               (f)   

59      F Stamford, P       M McCarthy               (d)   
        Evans & M McCarthy                                 

60-98   G & P Hayes         M McCarthy               (g)   

99-103  J Browning          M McCarthy               (f)   

104     M McCarthy          M McCarthy               (h)   

105-121 J Browning          M McCarthy               (f)   



(a) Typed by John Browning on Gestetner stencils. Duplicated by Mike McCarthy
(b) Typed by John Browning and printed at St.Peter's Lutheran College, Brisbane
(c) Commercially typeset and printed by Newey & Beath, Newcastle
(d) Word processed by Frank Stamford
(e) Word processed by Arthur Winzenried
(f) Word processed by John Browning
(g) Word processed by Peg Hayes
(h) Word processed by Mike McCarthy
The Society mailings have generally consisted of a mob of people gathering around a dining room table, and hurling bits of paper about in a wild frenzy. Over the years mailouts have taken place at various locations and amongst the attendees have been Frank Stamford, Arthur Winzenreid, Ted Stuckey, Geoff Thorpe, Mike McCarthy, Jack Stock, Alan and Gloria Stebbing, Phil Rickard, Hugh Markwick, Bill Hanks, Colin Harvey, and no doubt others whose names escape memory at the moment. Thanks to them all.
FROM THE EDITOR
This will be the last LRN published in the current format, and if it is late, it is my fault entirely. As someone associated with every issue over 20 years, I can say that it has been loads of fun. One source of great satisfaction is that this issue is probably the most balanced ever in terms of coverage throughout Australia (there have only ever been very few reports from the Northern Territory). A second source of satisfaction is that at the time of writing this I have never had so much material waiting for the next issue, even if I should have been finished a couple of weeks ago! Keep those reports rolling in, and thank you all.
NOTES, CORRECTIONS AND COMMENTS
Moreton Mill Centenary History
John Kerr advises that the Moreton Mill History by Berenis Alcorn and Robin Dunn is available for $25 plus $8 ($6 within Queensland) from Mrs Benny Alcorn, 22 Turner St, Maroochydore 4558. The excellent book has 238 pages just under A4 size including photos and detailed tram map. It also contains much tramway information and is recommended reading.
Echoes of the Axe
Ray Graf sends a press cutting which mentions this recent book by Charles Fenning, dealing with the history of the NSW mid-north coast's timber industry. Can anyone provide further details?
Puffing Billy South African Garratt
Andrew Burnham (Editor, Continental Modeller) points out that an error has occurred with the recording of the PBPS South African Garratt builder's number (see LRN 114 p.16 and LRN 118 p.1). This is correctly 7430 of 1951, with an original typographical mistake being perpetuated. Apologies to all, and thanks to Andrew for taking the trouble to point out the problem!
Australian Newsprint Mills, Boyer
(see LRN 93 p.15 & 88 p.13)
A recent enquiry by Ray Graf and Phillip Graham has elicited the information that the Boyer mill internal narrow gauge railway was sold several years ago and . . . we are unable to advise what has happened to it. This may refer to the proposed auction of five years ago. Can any reader provide further information?
RESEARCH COLUMN
Noel Butlin Archives Centre of Australian Business, Canberra
Of concern to all researchers will be the severe curtailment of the operations of the Noel Butlin Archives Centre. Originally intending to close them completely, the Australian National University has bowed to pressure to keep the centre open for the next three years, but with very limited staff, inadequate resourcing, and access by appointment only. There still appears to be a threat of the dispersal or destruction of records. The archive contains the extensive records of CSR as well as Australian Estates and no doubt other organisations which operated light railways. A wonderful resource belonging to all Australians, and one which must surely be protected.Editor
LOCOMOTIVE, ROLLING STOCK & EQUIPMENT MANUFACTURERS
GEORGE MOSS LTD, Osborne Park, WA
(see LRN 119 p.6)
Gemco is reported to have ceased locomotive construction in the last couple of years. This once prolific builder supplied large numbers of battery locomotives for home and export markets as well as a variety of wire electrics and diesels. Gemco's demise means that there is no really established manufacturer of narrow gauge locomotives for mining, construction or industrial use left in Australia. Perhaps this means we will revert to a predominance of imports, although cane railway loco requirements are unique in the world.
AUSTRALIAN CAPITAL TERRITORY
COCKINGTON GREEN, Belconnen 305mm gauge
(see LRN 120 p.3)
The locomotive on this 1ft gauge railway is an 0-4-0WT built by Ross Bishop-Wear & Colin Wear and modelled on a John Fowler 2ft gauge design, that of 16249 of 1924 for Rocky Point Mill, Queensland. There is a full description in Australian Model Engineering 51 (Nov-Dec 1993). Two locomotives were built with the other in private ownership.
Warwick Allison 10/97; David Proctor 10/97; Michael Bickford 10/97
NEW SOUTH WALES
THE BELLAMBI COAL CO PTY LTD, South Bulli Colliery 1067mm gauge
(see LRN 55 p.3)
This mine was visited on 12 July. Its sale by Shell to Allied Mining, a Wollongong-based firm, had been negotiated, and all the men (about 130) were to be made redundant before the handover, anticipated on 25 August. It was thought that Allied might reopen the mine initially to complete mining of the Bulli seam and then the lower Wongawilli seam, which has not yet been mined on these leases.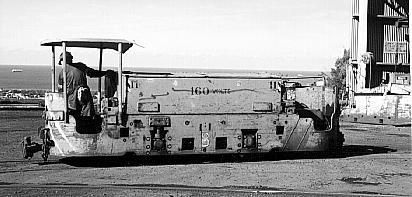 With a view of the ocean from South Bulli Colliery, 4wBE B, with A E Goodwin plates, in use on the surface, July 12th 1997.
Noted on the surface at Russelvale were:
D3    4wDH     E M Baldwin  diesel bay    

D4    4wDH     Fox          under repair  

A     4wBE                  surface use   

B     4wBE     A E Goodwin  surface use   

C     4wBE     A E Goodwin  u/ground use  

3A    4wDHR    Fox          in service    

4A    4wDHR    Fox          in service    

21B   4wDHR    E M Baldwin  in service    



There are also a number of personnel carriers and locos located at Shaft No.4. Believed to be underground at the time of the visit were personnel carriers 15A, 20B, 22B, 23B and Baldwin diesel loco D6. Away for repairs was Fox 4wDHR 11A.
BRAMBLES INDUSTRIAL SERVICES, Carrington 1067mm gauge
Three E M Baldwin 0-6-0DH underground mining locomotives were noted in a corner of the massive yard here in mid-October. Numbers carried were 3407, 3408 and 3403(?), while at least one other similar locomotive was seen on the back of a truck near the middle of the yard. Some or all of these units are believed to have come from Liddell Colliery, and further details would be welcomed.
BHP LTD, Port Kembla 1435mm gauge
(see LRN 120 p.3)
SRA 80-class locomotives 8015 and 8039 were trialled double heading Elouera coal trains from early September. Around the middle of the month they were working Kemira Valley trains solo rather than in combination. 8018 joined them at Port Kembla on 16 September.
The 80 class have only received small modifications so far, these being the fitting of a strobe light at each end above the number board plus the customary orange lights along the side just below the skirting and blue lights at the front below the painted numbers.
The Kemira line was closed for a week in September for track replacement and removal ofthe BHP Stainless siding at Waters (where the Kemira line passes under the Princes Highway). Of interest was the first use of concrete sleepers on the system, while English Electric (Australia) Bo-Bo DE D42 (A.270 of 1974) was being used on ballast trains on the line.
English Electric Bo-Bo DE D17 (A.031 of 1960) is the latest unit to be painted in the new yellow livery joining three other English Electric locos:
D33    Bo-Bo DE     A.089    1964                     

D49    Co-Co DE     A.242    1972    ex Goldsworthy   

D51    Co-Co DE     A.111    1965    ex WAGR &        
                                     Goldsworthy      



The October Long Weekend was a Open Day at the Port Kembla works. On the Saturday night a trip was done around the works using preserved
Bo-Bo DE D6 (Com-Eng, 1950) and 3801 Ltd's ex South Maitland Railways Beyer Peacock 2-8-2T 18 (5909 of 1914) which also ran up to Kemira loader. Clyde 0-6-0ST Bronzewing (457 of 1937) has been suffering problems of late which is why it was not used with SMR 18. Trips around the works were handled by D6 on one train, and English Electric (Australia) Bo-Bo DE D36 (A.237 of 1971) on another.
It is reported that two locomotives have been purchased by Specialised Container Transport, Com-Eng Bo-Bo DE D7 (built 1950), which will be used in Melbourne, and reportedly English Electric (Australia) D21(A.042 of 1960), to go to Perth.
Brad Peadon 9/97, 10/97; aus.rail newsgroup (Chris Stratton)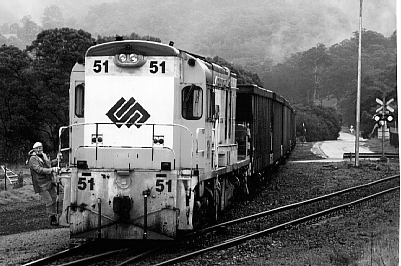 BHP Port Kembla's English Electric (Australia) Co-Co DE D51 (A.111 of 1965 in yellow livery shunts out empties from the Elouera spoil dump, September 19th 1997
CARGILL AUSTRALIA LTD, Newcastle 1435mm gauge
(see LRN 118 p.5)
AE Goodwin Co-Co DE CAR1 (83712 of 1960) was reportedly transferred to Cargill's new works in June.
Railway Digest 9/97 via Bob McKillop
DAY DREAM MINE, Wilson, nr Silverton narrow gauge
This mine north-east of Silverton, now a tourist attraction, opened around 1883. A town called Wilson was surveyed, and a smelter was opened in 1885. All were abandoned in the 1890s. Visiting the mine is more like touring a limestone cave than the more established mines, but it is possible to view the rail tracks which were installed by the previous operator when the mine was first re-opened. Access is by turning off the road from Broken Hill just before Silverton, and tours operate daily. A number of items of rolling stock, of various gauges, are displayed on the surface.
DORRIGO STEAM RAILWAY & MUSEUM 1435mm gauge
(see LRN 115 p.9)
A recent acquisition for the museum is Andrew Barclay 0-6-0ST 12324 of 1911, formerly Commonwealth Portland Cement, Portland, number 3. This has been purchased from the Central West Railway Preservation Society at Orange.
English Electric (Australia) B-B DE D11 (A.009 of 1956) ex Port Kembla steelworks has been reserved for the museum at Simsmetal, Mascot, where it was used as a shunter.
Ray Graf 9/97; Brad Peadon 10/97; Trevor Edmonds 10/97
HUNTER VALLEY RAILWAY TRUST, Branxton 1435mm gauge
(see LRN 117 p.5)
This group has been active in rebuilding the Branxton-Rothbury branch line and restoring rolling stock at their Rothbury site. A locomotive shed has been constructed with Railway Heritage Grant assistance and six of the seven former South Maitland Railways Beyer Peacock 2-8-2T tank locomotives have been relocated from East Greta to Rothbury, along with many tonnes of spare parts and equipment. Locomotives 17 (5570 of 1913) and 20 (5998 of 1915) have been stripped down, thoroughly cleaned, primed and repainted in preparation for steaming. There are over 100 items of rollingstock on site. Six carriages have been repainted for operations.
ILLAWARRA LIGHT RAILWAY MUSEUM SOCIETY, Albion Park 610mm gauge
(see LRN 119 p.7)
On 23 August, Hunslet 4wDM 2 (4578 of 1953) was noted painted in zebra stripes outside the loco shed, having arrived recently from the Port Kembla copper refinery. It is supposedly in working order.
NEWCASTLE WALLSEND COAL MINING CO PTY LTD, Ellalong Colliery 1067mm gauge
It is reported that this colliery, with its unique rack railway system is headed for early closure because of geological difficulties. Five rack locomotives were delivered here:
R/A ONE     4wDH     Fox              R/A1            1984   

R/A TWO     4wDH     Fox              R/A2            1984   

1           4wDH     Westfalia        14460-1-91      1991   
                     Becorit                                 

                                      (rebuild of E          
                                      M Baldwin              
                                      8179-1-3-79            
                                      1979)                  

2           4wDH     Westfalia        14526-1-91      1991   
                     Becorit                                 

3           4wDH     Mine Technik     22468-9-96      1996   



OLEX CABLES, Homebush Bay
This company has the contract to lay underground cables to replace the existing 5km of overhead powerlines near the Olympic site. A press photograph shows an interesting machine apparently used in the linking together of steel tubing to contain the cables. It consists of a short length of narrow gauge track placed in the cable trench, at one end of which is a powered (and presumably self-propelled) unit. The function of the unit seems to be to rotate the newly-placed length of tubing so that it engages with the previous length by means of an internal screw arrangement which is part of each tube. Part of the project is one "major under-road tunnel".
Daily Telegraph 11/2/97 via Ray Graf
MARSDEN MUSEUM OF HISTORIC ENGINES, Goulburn 610 mm gauge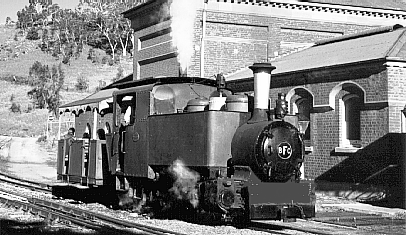 John Fowler 0-4-2T 16340 of 1924 outside the historic pump house at the Marsden Weir Steam Museum, Goulburn, NSW, 19 July 1997
PORT KEMBLA COPPER Pty Ltd 610mm gauge
(see LRN 119 p.9)
On the ILRMS tour on 23 August, one Hunslet 4wDM (4582 of 1955) was in use, heavily graffited, with three empty anode trucks. The train shuttled to and fro on about 50 yards of track in and out of an empty anode house, which was stripped for demolition.
Much existing trackwork was noted on site but most of it was unusable because of missing point blades, rubbish obstructing both tracks and points, and diamond crossings installed across existing trackage but with no slots cut to allow any crossing traffic.
In storage was a second, and totally dismantled, Hunslet loco, with builder's plate made unintelligible with a thick covering of paint. In the distance and unaccessible was also seen the black and yellow striped body of a third unit.
RICHMOND VALE PRESERVATION COOPERATIVE SOCIETY LTD Richmond Vale Railway Museum, Pelaw Main 1435mm gauge
(see LRN 120 p.5)
Restoration work on John Brown's private carriage was nearing completion at Richmond Vale in June 1997. The carriage had received a coat of paint, the roof was nearing full malthoid coverage, a full set of new windows had been made and the interior was awaiting final painting.
The boiler for ROD 2-8-0 23 (Great Central Railway 1919) had been fully detubed and stripped as part of a feasibility study to determine its potential to return to steam.
The Link Line, April/June 1997 via Bob McKillop
SIMSMETAL LTD, Mascot 1435mm gauge
(see LRN 46 p.3)
Due to the company having to vacate the site, English Electric (Australia)
B-B DE D11 (A.009 of 1956) has been put up for sale, reportedly for $12,000. It is understood that the Dorrigo Steam Railway & Museum has been give the option of purchasing this unit and have started fundraising to raise the price.
TRANSFIELD BOUYGES JOINT VENTURE, Sydney Airport Link 900mm gauge
(see LRN 119 p.10)
It is reported that on 22 October, a number of the 22 m long steel barriers used to keep the Cooks River out of the construction site collapsed during a king tide allowing the hole at Arncliffe to fill up with water. 19 workers managed to scramble clear, but 2 didn't make it and have been seriously injured. Work has been stopped until safety inspectors look at the site.
QUEENSLAND
ROGER ANDERSON, Pinnacle Village, Wonga Beach 610mm gauge
John Fowler 0-4-2T Ivy (15947 of 1922), ex Mossman Mill, is dismantled on site at this caravan parkfor restoration, and some work seems to be in progress.
Editor 10/97
BABINDA SUGAR LTD 610mm gauge
(see LRN 114/6 & 116/10)
BUNDABERG SUGAR LTD, Mourilyan Mill
(see LRN 120 p.8)
Babinda's Com-Eng 0-6-0DH 1 Josephine (A1821 of 1957) is back in service this year, in yellow livery with green trim, now seemingly the mill's standard livery, although some locomotives are still painted white. Com-Eng 0-6-0DH locos 6 Allison (C2234 of 1959) and 7 Morrison (AD1239 of 1960) have had new cabs fitted and have been newly fitted to work in multiple back-to-back. Baguley 0-6-0DH Fishery (3387 of 1954) seems to be retained available as a spare unit this season. Of the two Malcolm Moore 4wDMs, 1057 of 1943 is derelict, while 1011 of 1943 is on an isolated length of track in the mill yard with the E M Baldwin petrol line car (3092-1-10-69 of 1969) which came to Babinda from the now closed Goondi Mill.
Meanwhile, this season Mourilyan Mill has been working the ex-Goondi lines north of the Johnstone River (Daradgee, Upper Daradgee, Jogo and Garradunga) for the first time since the closure of Goondi in 1986. These areas have previously been part of Babinda Mill territory, but flexibility in working between the two mills has been maintained by the retention of the Johnstone River Bridge connecting which connected the two parts of the Goondi system.
Editor 10/97; ARHS Bulletin 10/97
BUNDABERG STEAM TRAMWAY PRESERVATION SOCIETY, North Bundaberg & Qunaba 610mm gauge
(see LRN 83 p.8)
The locomotive in use on Sundays at the Botanic Gardens on October 11th was been Bundaberg Foundry 0-4-2T 3 of 1952. Meanwhile, noted at the back of the loco shed at Millaquin Mill's Qunaba depot (former mill site) in October was the Society's Baldwin 0-6-2T Felin-Hen (46828 of 1917). This consisted of frame, wheels and boiler assembly only.
Editor 10/97
CSR LTD, Herbert River mills 610mm gauge
(see LRN 120 p.8)
Plane Creek Mill's Clyde 0-6-0DH 11 (ClydeQ 70-709 of 1970) was transferred to Victoria Mill on or shortly before October 8th. Before entering service, the wheels were to be machined as the wheel profile used at Victoria differs from that at Plane Creek. Some of the ballast weights had been removed and sent to Macknade Mill by October 23rd for possible use there.
E M Baldwin 0-4-0DH Albany (6-1792-1-11-66 of 1966), which had been sent over from Victoria to Macknade for service with the navvies, saw service hauling cane at Macknadeon September 22nd to 24th to cover a failure, and then from October 3rd, when E M Baldwin B-B DH 19 (7070-3-4-77 of 1977) had a major breakdown. This continued up to October 17th, on which date it returned to Victoria, where it is believed to have been used since for bin shop shunting.
Recently returned from its stint in Proserpine by September 25th, Victoria Mill's preserved Hudswell Clarke 0-6-0 Homebush (1067 of 1914) was to be used for free passenger train rides in association with the Maraka Festival on October 18th.
Work on the $2m Elphinstone Creek road/rail bridge for Victoria Mill is expected to commence in the 1997-8 year, but will take two years to complete.
Chris Hart 10/97;Herbert River Express 4/9/97,
27/9/97, 2/10/97 & 16/10/97 via Chris Hart
DOUGLAS SHIRE COUNCIL, Port Douglas 610mm gauge
Ex-Douglas Shire Tramway 0-6-0T Faugh-a-Ballagh (8733 of 1900) has been returned to Port Douglas by Mossman Mill for display not far from the Marina Mirage railway station. The locomotive has been reassembled and cleaned up ready for painting. A canopy was noted in the course of construction over it. Displayed with the locomotive is the ex-Douglas Shire Council car which was for a while used for the Bally Hooley Commuter train service at Port Douglas.
DREAMWORLD PRODUCTIONS PTY LTD, Coomera 610mm gauge
(see LRN 120 p.9)
The boiler of John Fowler 0-4-0WT 16249 of 1925 is reported to have been sent to Boilerland at Virginia in Brisbane for remedial work. It is understood that ownership issues have been an obstacle to this work being done previously. It seems the locomotive was still in the ownership of W H Heck when placed at Dreamworld. Can a reader clarify this issue?
HAUGHTON SUGAR CO. PTY LTD, Invicta Mill, 610 mm gauge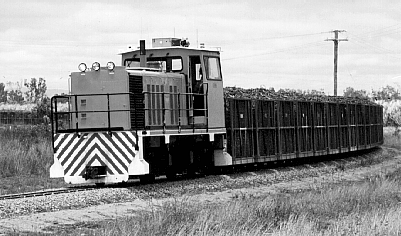 Invicta Mill's Walkers B-B DH Clare (655 of 1970, rebuilt Tulk Goninan, 1994) approaches the mill after crossing the Haughton River, 10 October, 1996.
HENRY HILL, Wrights Creek 610mm gauge
Preserved here since 1988 has been F C Hibberd Planet 4wDM 3280 of 1949, obtained from CSR's now closed Hambledon Mill. The loco is stored under cover, and a replacement engine has been obtained to replace the one whose failure led to the locomotive being set aside.
ISIS CENTRAL SUGAR MILL CO LTD 610mm gauge
(see LRN 114 p.11)
MILLAQUIN SUGAR CO PTY LTD 610mm gauge
(see LRN 98 p.10)
A $2m rail extension of more than 10km has been built north from the terminus of Isis Mill's Gregory river line, across the Elliott River to the Gillen's Creek area on the southern approaches to Bundaberg. South of the Elliott River, the new line passes through a very attractive tract of State Forest for a distance of about 5km. Some track construction work beyond the current head of steel seems to have been disrupted by irrigation works. On 13 September, Clyde (Qld) 0-6-0DH 9 (75-812 of 1975), with two loaded ballast hoppers, was on a short isolated length of unballasted track about 200m in length which seemed to have been cut off from the end of the new construction by excavation for a link between two irrigation channels. Ballasting work seemed to have been completed on the new line up to this point. Further in the distance was further new formation indicating a junction, while a further length of track beyond further irrigation earthworks was in the process of being ballasted by a road semi-trailer.
Meanwhile the Burnett Shire Council is faced with competing applications for tramway permits from Isis and Millaquin Mills in the Gillen's Creek - New Valley Road area as they prepare for the continuing deregulation of the industry. The applications reportedly show the lines crossing each other several times as well as running on opposite sides of the same road. The Shire Council opposes the use of road reserves for tramlines, but alternative routes are being thwarted by each mill's growers being unwilling to grant an easement for the rival mill's line. Suggestions for a shared line by one Councillor have not been warmly greeted.
Editor 9/97; News-Mail (Bundaberg) 13/9/97 via Editor
Australian Canegrower 25/8/97 via Chris Hart
ROD LEONARD, Trinity Beach 610mm gauge
(see LRN 113 p.13)
The locomotives and rolling stock previously stored at a site in Trinity Beach had been removed when it was visited in early October.
MACKAY SUGAR CO-OPERATIVE ASSOCIATION LTD 610mm gauge
(see LRN 120 p.9)
Farleigh Mill is reported to have begun work on regrading the cane railway over the Summit, north of the mill. This section is a severe bottleneck, requiring the splitting of loads. The work will see grades eased from 1 in 66 to 1 in 100.
Australian Canegrower 8/9/97 via Chris Hart
MOSSMAN CENTRAL MILL CO LTD 610mm gauge
(see LRN 120 p.10)
The Bally Hooley tourist service ceased some years ago and the two Bundaberg Foundry 0-6-2T locomotives appear to have been in the open for some considerable time, with a consequent deterioration in external condition. Bundy (2 of 1952), with four-wheel tender, wasparked behind the loco shed while Speedy (6 of 1952) was at the old Bally Hooley station with the passenger stock. A small petrol line car which was displayed near the station has become derelict.
Parked with Bundy were Malcolm Moore 4wDM Stumpy (1042 of 1943) anda Gemco self-propelled sleeper renewer (521885005293-R854-87 of 1987).
Baguley 0-6-0DM Mowbray (3378 of 1954) was noted working the BallyHooley Commuter service at Port Douglas.
THE MULGRAVE CENTRAL MILL CO LTD, Gordonvale 610mm gauge
(see LRN 120 p.10)
The "Pie Cart" 4wDM (Mulgrave Mill, 1962) and Motor Rail Simplex 4wDM 10450 of 1954 were both noted dismantled by the navvy depot in September. New Plasser KMX-12T ballast tamper 432 of 1997 was noted close by.
Enquiries revealed that Motor Rail Simplex 4wDM AMY (4207 of 1929), out of use in the navvy yard for some time, has been acquired by Railco, who run preserved QGR stock at Atherton and Ravenshoe.
Preliminary road improvement work had only recently begun at Brimsmead in September so no work on the proposed rail tunnel had commenced by that time.
PERILYA MINING N L, Mount Morgan 1067mm & 661mm gauge
(see LRN 80 p.13)
This company currently holds the lease to the Mount Morgan mine. A daily bus tour takes tourists into the mine site, where a collection of historic equipment is on display. This includes a 3ft 6ins gauge 4wWE loco, built on the chassis of Hunslet 0-4-0ST 796 of 1902 in around 1945, together with a couple of 2ft 2ins gauge rolling stock items.
PLANE CREEK CENTRAL MILL CO LTD, Sarina 610mm gauge
(see LRN 119 p.16)
With the introduction of rebuilt Walkers B-B DH locos, many of the mill's older units were reported out of use for the 1997 season, and supposedly available for disposal as follows:
2    0-6-0DH     Clyde             57-147        1957      

3    0-6-0DH     Com-Eng           FA1036        1959      

9    0-6-0DH     Ruston & Hornsby  6-825-1-5-64  1964      
                 reb.E.M. Baldwin                          

10   0-6-0DH     Clyde             67-569        1967      

11   0-6-0DH     ClydeQld          70-709        1970  


Trains of more than 2000 tonnes have been reported, with one of 403 bins brought in from the Southern Cane Railway early in the season. Such trains are operated by two Walkers rebuilds, with one in the lead and one down the rake operating with Locotrol.
PROSERPINE CO-OPERATIVE SUGAR MILLING ASSOCIATION LTD 610mm gauge
(see LRN 119 p.16)
A length of track was specially installed at the Proserpine Showgrounds and on September 14th, as part of the mill's centenary celebrations, Victoria Mill's Hudswell Clarke 0-6-0 Homebush along with an original and a replica Decauville carriage, all specially loaned for the occasion, was used to give rides.
Durundur Railway Bulletin 10/97; Australian Canegrower 6/10/97 via C Hart;
The Daily Mercury (Mackay) 12/9/97 via Editor
PROSERPINE HISTORICAL MUSEUM SOCIETY 610mm gauge
Hunslet 4-6-0T 1317 of 1918, previously displayed at the Shire Council Park, has been placed in the care of the Historical Museum Society and it is understood it is to be cosmetically restored.
ROTARY CLUB OF WYNNUM & MANLY, St Helena Island 610mm gauge
(see LRN 119 p.16)
The 3 km passenger tramway from the jetty to the penal settlement opened on 24 August th. The tramway ride is free but visitors pay a $4.50 entry fee of which $1 is returned by the State Government to the Rotary Club.
The Sunday Mail 24/10/97 via Chris Hart; Sunshine Express 9/97 via Editor
SOUTH JOHNSTONE MILL LTD 610mm gauge
(see LRN 120 p.11)
The loco livery at this mill has been changed. Gone are the silver headstocks, replaced by yellow and black.
TULLY SUGAR LTD 610mm gauge
(see LRN 120 p.11)
Tramline expansion seems to be continuing, particularly in the Tully and Murray River lands south-west of the mill. A new 3km extension was noted in the Travelling Dairy Creek area north of the Tully River, while on the opposite bank of the river, the Riversdale line seems to have been extended by about 3 kilometres during the 1996 slack season. A 1.5km extension to the Warrami Extension line was being built down Blackman Road by the end of September 1997, with 0.7km of this completed. The anticipated 3.2km line in Daveson Road, El Arish, wascompleted for the 1997 season. Meanwhile, a rail corridor has apparently been set aside for a line into the North Warrami area, but as the area is currently growing cane for South Johnstone and Mourilyan Mills, early construction seems unlikely. Cane for these two mills from this area is trucked for long distances by road transport, arguably heavily subsidised by the taxpayer in terms of road costs.
One of the earliest main-line diesel locomotives supplied to the sugar industry in Queensland was TULLY No.8, John Fowler 0-6-0DM 21912 of 1936, which was rebuilt to diesel hydraulic by E M Baldwin in 1963 (590-6-63). It was purchased to work thedifficult section over the Walter Hill Range to El Arish which opened in 1937. This unit has generally been found in the navvy area at the mill in recent years, seeing little if any use. It was noted dismantled outside the locoshed late in September, consisting of frame wheels and cab only.
New Plasser KMX-12T ballast tamper 433 of 1997 was seen in use in September. Its builder's plate is dated 1996.
Editor 9/97; ARHS Bulletin 10/97
SOUTH AUSTRALIA
BHP LONG PRODUCTS DIVISION, Whyalla 1435 & 1067mm gauge
(see LRN 120 p.11)
The second English Electric Co-Co DEon hire from Morrison Knudsen is MKA7 (A.223 of 1971).
COBDOGLA STEAM FRIENDS SOCIETY INC, Cobdogla Irrigation Museum 610mm gauge
(see LRN 116 p.15)
The Cobdogla Irrigation & Steam Museum has commenced construction of new track along the irrigation channel towards Loveday. The first level crossing has been completed and enough track components are on hand to build about 600 m of track. Cut down sleepers from the Peebinga line are being utilised. The plan is to construct about 4km of new track in addition to the 1km already in place around the museum.
Catchpoint 9/97 via Bob McKillop
PORT DOCK STATION RAILWAY MUSEUM INC, Port Adelaide various gauges
(see LRN 117 p.12)
A successful Friends of Thomas the Tank Engine day was held in July with more than 10,500 paying visitors. 457mm gauge steam locomotives 0-4-2T BUB (Mile End Museum, 1988) and 2-4-0 BILL (Willis 43 of 1992) double headed trains during the day and proved extremely popular. In addition, 1067mm gauge 0-6-0T PERONNE (Andrew Barclay 1545 of 1919) also operated special trains throughout the day, demonstrating excellent steaming following rebuilding of the regulator valve.
Catchpoint September 1997 via Bob McKillop
TASMANIA
EMU BAY RAILWAY CO LTD 1067mm gauge
(see LRN 120 p.12)
On 5 June at 12.40pm, a Hellyer bound train collided with an empty gravel truck at a road crossing at Ridgley. Considerable damage was done to the truck's trailer, and the front of Walkers B-B DH 1106 (658 of 1971) was also damaged.
Tasmanian Rail News 198 via Norm Houghton
MT LYELL ABT RAILWAY SOCIETY 1067mm gauge
(see 118 p.12 & 119 p.4)
Proposals to rebuilt the former Queenstown-Strahan line as a tourist railway received national publicity in July 1997. The Abt Railway Society, which has cleared some of the formation as a walking trail, has been backed by Launceston tourism entrepreneur Roger Smith who has given the project a high public profile. Smith proposes restoration of the entire line as a steam-operated tourist railway at a cost of $15 million.
An internet site dealing with the project prepared by students of Murray High School can be found at http://www.tassie.net.au/~murray/abt
Tasmanian Rail News July 1997 via Bob McKillop & Norm Houghton
VAN DIEMEN LIGHT RAILWAY SOCIETY INC, Don River Tramway 1067mm gauge
(see LRN 119 p.18)
A successful return run to Burnie with the ex-Emu Bay railway 4-8-0 8 (Dübs 3856 of 1900) took place on 20 July, in preparation for the statewide tour commencing in September. and the Emu Bay centenary.
A long-term restoration project is the ex-Emu Bay Railway Riley railcar. This unit is being completely refurbished, and many hours have gone into it already.
Don News 8/97 & 9/97 via Ray Graf
VICTORIA
ALEXANDRA TIMBER TRAMWAY & MUSEUM INC. 610mm gauge
(see LRN 119 p.19)
The planned loan of Hudswell Clarke 0-4-2ST No.4 (1559 of 1925) from the Puffing Billy Preservation Society's Menzies Creek Museum did not eventuate. Instead, urgent work on John Fowler 0-6-0T 11885 of 1909 got this loco back in service during June 1997.
Timberline, August 1997 via Bob McKillop
BHP, Long Island, Hastings 1600mm gauge
(see LRN 105 p.18)
BHP's Clyde Bo-Bo DE Y148 (65-414 of 1965) received attention at Newport Workshops during September. During most of that month it was replaced by Great Northern Rail Services Pty Ltd Clyde Bo-Bo DE 377 (64-332 of 1964).
Australian Locomotive News 10/97 via Editor
COAL CREEK HISTORICAL VILLAGE, Korrumburra, 610 mm gauge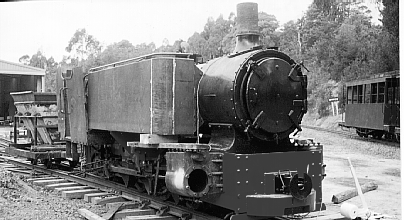 Under restoration at Coal Creek Historical Village, Korrumburra, Victoria, is ex-Bingera Mill Bundaberg Foundry 0-6-2T Kolan (7 of 1953), September 24th 1997.
ERICA, 914 mm gauge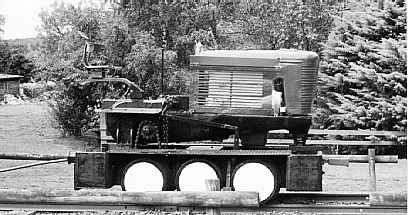 Ex Forests Commission 3ft gauge Days 0-6-0PM on display in the main street at Erica, Victoria, 23 March 1997
EMERALD TOURIST RAILWAY BOARD, Puffing Billy Railway 762mm gauge
(see LRN 120 p.12)
A grant of $99 500 has been received from the State Government for work to be carried out at Lakeside. The work, which has already commenced, will involve the provision of a second platform, and a siding at the down end of the station, where trains can be stabled. This is to facilitate train operations when the line is reopened to Gembrook.
A new station building for Wright is being constructed off-site by building construction students. Cattle grids have now been fitted to the cattle pits at Wright Road level crossing, which is now the most authentic heritage level crossing on the railway. Also being constructed off-site are the piers for bridge No.9 (Cockatoo Creek). Flashing lights have now been installed at the busy, and rather complicated, McBride Road level crossing at Cockatoo.
All of this work is in preparation for the opening to Gembrook, which according to the October edition of the Puffing Billy Railway's Monthly News, is scheduled for 11 October 1988. Though this date is quoted in two places, it seems they might mean 1998!
2-6-2T 7A (Newport, 1905) is back in service after its ten year boiler examination, and Peckett 0-4-0T Sir John Grice (1701 of 1926) has also just passed its ten year boiler examination.
The former Mount Lyell Railway passenger cars, 1 NBL to 4 NBL have been reclassified as NAL. This is because they are regarded as "First Class" vehicles.
WESTERN AUSTRALIA
BHP IRON ORE DIVISION 1435mm gauge
(see LRN 120 p.14)
The new AC6000 locomotives on order from A.Goninan will be constructed in the USA by General Electric, and completed at Goninan's Bassendean plant.
Preserved at Port Hedland is Com-Eng Co-Co DE 5499 (C6096-04 of 1975).
Australian Locomotive News 8/97 via Editor,
Railway Digest 10/97 via Brad Peadon
BUNNINGS, Jardee 1067mm gauge
(see LRN 96 p.17)
An internal combustion locomotive is reportedly out of use at Jardee. It appears the mill no longer has any connection to the main line as Westrail have rationalised this station and sold most of the points and siding trackage to Ian Willis .
Ian Willis via Simon Mead 9/97
BUNNINGS, Pemberton 1067mm gauge
(see LRN 118 p.16)
A Com Eng 0-6-0DH is still at Pemberton Mill, stored out of use. (Is this BB1050 of 1961, formerly with Hawker Siddeley? - Ed.) Consideration is being given to transferring this loco to Bunnings' Diamond Woodchip Mill at Lambert in conjunction with the construction of a siding into the mill from the Pemberton Tramway at Lyall. This will allow logs for transfer to Pemberton Mill to be loaded inside the mill site, with the diesel carrying out the shunt from the mill to the station at Lyall. Currently logs are carried to the loading siding at Lyall by the mill's log handling machine, a somewhat inconvenient arrangement. It is understood that it is painted very light gray with black trim, black chassis, and orange and black zebra stripes on the headstocks and counterweights.
DERBY TRAMWAY ASSOCIATION 1067mm gauge
A promising proposal to recreate the former PWD tramway at Derby on its original site has become controversial because of the proposed redevelopment of the tramway depot area (see LRN 65 p.18) by a trucking company. The Shire Council has approved for the tramway goods sheds to be removed, but this is subject to the decision of the WA Heritage Council. The matter is complicated by the Tramway Association President seeing the possibility of $20 000 compensation to be put towards the development of the new tramway as more attractive than the retention of the original site, an approach rejected by others committed to Derby's heritage.
Some tramway track near the jetty appears intact although overgrown and almost buried.
(The newspaper feature dealing with this issue contains a very clear photograph from the Derby Public Library collection of one of the 0-4-0PM locomotives.)
David Burke 10/97; Broome Advertiser 3/9/97 via David Burke
HAMERSLEY IRON PTY LTD 1435mm gauge
To be found at the 7 Mile Complex is the world's only preserved Alco C628 Co-Co DE, 2000 (3415-01 of 1965), formerly numbered 2003.
Australian Locomotive News 8/97 & 10/97 via Editor
PEMBERTON TRAMWAY COMPANY 1067mm gauge
(see LRN 120 p.15)
The Plymouth 4wDM acquired from Bunnings Manjimup sawmill has no builders plate but appears to have been built in 1958 based on the manufacture date of the motor. This loco has recently been restored to operating condition and is used for track maintenance trains on the tramway, tram recovery in the event of a failure, and for light shunting duties around Pemberton yard. (According to editor's records, it is one of Plymouth 6126 to 6132, built for the Utah Brown & Root Sudamericana consortium for the Snowy Mountains scheme in about 1959.)
PILBARA RAILWAY HISTORICAL SOCIETY, Dampier 1435mm gauge
(see LRN 114 p.19)
Ex iron-ore diesel locomotives preserved here are as follows:
007   Bo-Bo DE   Alco        69214       1940   ex Hamersley    
                                                Iron            

1000  Bo-Bo DE   Alco        3449-01     1966   ex Hamersley    
                                                Iron            

3017  Co-Co DE   AE Goodwin  G-6043-04          ex Hamersley    
                                                Iron            

H1    Co-Co DE   EE          A.232       1970   ex Goldsworthy  
                 Australia                                      

5450  Bo-Bo DE   EMD         8970        1950   ex Mount        
                                                Newman          

5502  Co-Co DE   Com-Eng     C6096-07    1975   ex BHP Newman   

9405  Bo-Bo DE   MLW         77733       1952   ex Robe River   
                                                (*)             
(*) ex NSWGR 4002 
Australian Locomotive News 8/97 via Editor
Park, Port Hedland 1435mm gauge
Preserved here from Pilbara iron ore lines are:
H2    Bo-Bo DE    EE           A.105     1965   ex              
                  Australia                     Goldsworthy,    
                                                1995            

5451  Bo-Bo DE    EMD          10805     1951   ex Mount        
                                                Newman          

5497  Co-Co DE    Com-Eng      C6096-02  1975   ex BHP Newman   
Australian Locomotive News 8/97 via Editor
ROBE RIVER IRON ASSOCIATES 1435mm gauge
A major new mine development is planned for West Angelas, which would require a new 340-kilometre rail link. The proposed mine site is situated near the Hamersley Iron Paraburdoo line, and discussions are underway regarding a possible joint use of Hamersley's track.
Railway Digest 10/97 via Brad Peadon
SPECIALISED CONTAINER TRANSPORT, Perth 1435mm gauge
It is reported that this company has two English Electric (Australia) Bo-Bo DE H class locomotives in use at its depot, H3 (A.085 of 1964) and H5 (A.087 of 1964), both painted in pale grey livery. An earlier report suggested that H3 and H2 (A.084 of 1964) were to go east for refurbishment before possible use in Melbourne and Adelaide, and BHP Port Kembla (see elsewhere this issue) are also reported to have sold locomotives to this group.
aus.rail newsgroup 10/97 (Paul Pickford); ARHS Bulletin 10/97
WEST AUSTRALIAN LIGHT RAILWAY PRESERVATION ASSOCIATION, Bennett Brook Railway, Whiteman Park 610mm gauge
(see LRN 120 p.15)
Bennett Brook Railway's 1997 Enthusiast's Day on Saturday 13 September was very successful. The day was cloudy but fine, allowing photography from almost any angle. Ticket and souvenir sales were excellent. In addition to the hourly scheduled service train, a wide variety of other train movements were undertaken.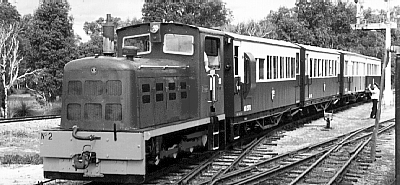 Showing off the bogie carriages in their new livery is John Fowler 0-6-0DM No.2 Rosalie (4110019 of 1950) on Enthusiasts' Day, September 23th, 1997
Between 11am and 5pm, 27 train movements took place over the Mussel Pool line and 16 train movements on the Bushland Loop line. This gave a total of 59 arrivals or departures at Whiteman Village Jct. station during the day. With this much activity, plus associated shunt movements, it is not surprising that the two signalmen and the train controller rostered to supervise operations at Whiteman Village Junction were hardly ever in the office to answer the phone. Trains run included light engine movements, passenger, pick-up goods, mineral, and mixed train consists, and even a ballast regulator.
Motive power featured included:
BT1        Betty      0-4-2T     Perry        8967.39.1 1939    
Thompson                                             

NG15 118   Elizabeth  2-6-2      Henschel     24476     1938    

No.2       Rosalie    0-6-0DM    Fowler       4110019   1950    

PW27       Wyndham    4wDM       Gemco                  1964    

1                     4wDM       F C Hibberd  2150      1938    

Maylands   4wPM       Metropolitan           c.1960  
                                  Brick                         

TM715                 ballast                                   
                      regulator  

Timekeeping was good considering the very tight timetable being operated, dropping about 15 minutes behind only when two motive power problems occurred at the same time, Maylands throwing a drive chain, and NG118 suffering steaming problems because of bad coal.
The Perry shunting the new goods shed at Mussel Pool and then banking the NG15's freight train up the 1 in 47 gradient from the station was a highlight, as were the four photo run-pasts staged during the day. The Austin 7 Car Club attended and had 6 cars on display on the station forecourt during the day, which added to the period atmosphere. The evening sausage sizzle and evening train trips were well attended and enjoyed by all.
Thomas the Tank Engine Day was held on October 12th, and once again all passenger figures were smashed.Simon Mead 9/97;
Ken Watson 10/97; Bennett Brook Railway Members Newsletter 10/97
Wickham 1435mm gauge
Preserved at Wickham is ex Robe River Iron Associates 9401 (Montreal Loco Works Bo-Bo DE 77737 of 1952), formerly ex NSWGR 4006.
Australian Locomotive News 8/97 via Editor
OVERSEAS
BRUNEI
JERUDONG PARK RAILWAY, Brunei Darussalam 457mm gauge
The Jerudong Park Playground is situated on the coast overlooking the South China Sea about25 km from the capital of Brunei, Bandar Seri Begawan. The Park contains fine gardens, children's playgrounds and a variety of rides ranging from the low-adrenalin type, such as a carousel, to heart-stopping 3-D gyrations and free falls. Although open during the day, the park only comes alive in the evening as the temperature drops and most visitors come in the night as it is the coolest part of the day.
The park contains a light railway constructed and maintained by Keith Watson of Wato Engineering, WA. The gauge is 15 inches and the line is laid with 20 lb rail. The minimum radius is 25 m while on the main line the minimum is 50 m. The length is around 1.6 km roughly in the shape of a "U" with three stations - one at each end and one in the middle - named West, North and East respectively. The terminal stations consist of a passing loop and a single platform. The line terminates with a 6 m turntable at each end. North station is an island platform in the centre of a passing loop. Near East station a triangle branches from the main line; the apex then curves back to the main lineto give a reversing loop. Between North and West stations a spur leads to the five-road locomotive/carriage shed with two inspection pits.The line is fully signalled and has two level crossings with automatic boom gates.
Patronage is heavy and quite often one has to wait for the next train as all the seats are occupied. Apart from functioning as a diversion in itself, the railway provides a real transportation service as the park is large and extensive walking is enervating in the high humidity environment.
The locos and rolling stock are from Severn Lamb of Stratford upon Avon, UK. There are two locomotives. These are 2-6-0 (Mogul) types based on the "Rio" pattern of the Denver and Rio Grande narrow gauge locos. They are powered by a Perkins 4-cylinder Diesel engine. Braking is provided by a twin airpipe brake system, while the caboose contains a generator set for carriage lighting.
Construction began on the site of a former rice mill on 18 June 1994 and the railway was up and running on 15 July, the date of the Sultan's birthday. This was quite a feat as the rails did not arrive until 5 July. The railway line utilising sleepers from Sarawak is laid on a bed of crushed rock surrounded by a nylon membrane which stops the whole lot sinking into the clay underneath.
The rolling stock consists of: twelve 16-seat passenger cars, two cabooses, and two construction wagons.
INDONESIA
JAVAN SUGAR MILL RAILWAYS, 600mm & 700mm gauge
Thirty-seven sugar mills are still operating narrow gauge steam locomotives, of which there are more than 150 operating, and more than 250 out of use. There are also as many as 350 diesel locomotives. Some steam locomotives are now being exported for preservation.
Antiquated infrastructure, land shortages, and the uneconomic nature of the local industry in Java means that many mills are threatened by closure, with new sugar mills likely to established on the outer islands.
INDIA
DARJEELING HIMALAYAN RAILWAY, 610mm gauge
The Darjeeling Himalayan Railway Heritage Foundation has been formed in India with groups around the world with a view to trying to keep the famous line in existence. Information can be obtained by sending a SAE to John Lacey, PO Box 847, ROZELLE 2039.
MEMBER'S ADVERTISEMENT
Railway videos (mainly PAL format, some NTSC) from US, UK and NZ producers. Rapid service and competitive prices. For further information and the latest prices contact us at: Tower Hill Traders, PO Box 701, MPC, Old Airport, Bandar Seri Begawan 3707, BRUNEI. Fax: ++ 673 2 236616. e-mail: thillt@ozemail.com.au
LIGHT RAILWAY RESEARCH SOCIETY OF AUSTRALIA INC.
Secretary: Phil Rickard, PO Box 21, SURREY HILLS 3127
Membership Secretary: Andrew Hennell, PO Box 21, SURREY HILLS 3127
Editor Light Railways: Norm Houghton, PO Box 1128, GEELONG 3220
LRRSA STATE CONTACTS
New South Wales: Craig Wilson, 18 Rodney Avenue, BEECROFT 2119
South Australia: Arnold Lockyer, 6 Dunedin Street, DOVER GARDENS 5048
Tasmania: Ken Milbourne, 11 Ruthwell Street, MONTROSE 7010
Victoria: Jack Stock, PO Box 21, SURREY HILLS 3127
Other states: via Victoria
LIGHT RAILWAY NEWS STATE NEWS CONTACTS
South Australia: Arnold Lockyer, 6 Dunedin Street, DOVER GARDENS 5084
Tasmania: Ken Milbourne, 11 Ruthwell Street, MONTROSE 7010
Victoria: Frank Stamford, 9 McGregor Street, CANTERBURY 3126
E-mail: fstamford@acslink.aone.net.au
Western Australia: David Whiteford, 102 Cohn Street, KEWDALE6105
Other states/territories: write to Hon.Editor (see front cover)
LRRSA WEB PAGE: http://www.ozemail.com.au/~telica
LIGHT RAILWAY NEWS is published by the Light Railway Research Society of Australia Inc. All articles and illustrations in this publication remain the copyright of the author and publisher. Contributions of material for inclusion in Light Railway News are welcome and should be sent to the Editor or relevant State News Contacts. Material submitted is subject to editing, and publication is at the discretion of the Editor. Material is accepted for publication in Light Railway News on the proviso that the Society has the right to reprint, with acknowledgement, any material published in Light Railway News or include this material in other Society publications.
---
---
This page is prepared and maintained for the LRRSA by Frank Stamford and copyright © by LRRSA. Last updated on 19 December 1996.
HTML by Brunel Gooch Information Systems Pty Ltd.
---