LIGHT RAILWAY NEWS
Published by
The Light Railway Research Society of Australia
---
No. 108 October 1995
Hon.Editor: John Browning, PO Box 5646, MACKAY MAIL CENTRE, Q. 4741
Phone: (079) 42 4251(A/H); (079) 51 3100 (W); Fax: (079) 51 2875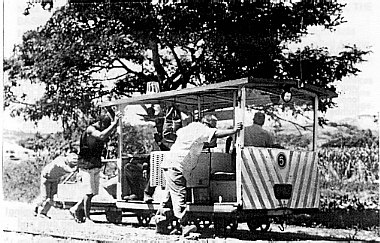 A Rarawai Mill track gang give a push to get their diesel line car under way as it pulls its tool wagon out of a siding. Traction on one axle only does not help! Bulolo, Fiji, 24 August 1994.
---

Contents
NOTES, CORRECTIONS AND COMMENTS
RESEARCH COLUMN
LOCOMOTIVE, ROLLING STOCK & EQUIPMENT MANUFACTURERS
NEW SOUTH WALES
QUEENSLAND
TASMANIA
VICTORIA
WESTERN AUSTRALIA
OVERSEAS - FIJI
---

LIGHT RAILWAY RESEARCH SOCIETY OF AUSTRALIA
Secretary: Jack Stock, PO Box 21, SURREY HILLS 3127
Membership Secretary: Andrew Hennell, PO Box 21, SURREY HILLS 3127
Editor Light Railways: Norm Houghton, PO Box 1128, GEELONG 3220
LRRSA STATE CONTACTS
New South Wales: Craig Wilson, 18 Rodney Avenue, BEECROFT 2119
South Australia: Arnold Lockyer, 6 Dunedin Street, DOVER GARDENS 5084
Tasmania: Ken Milbourne, 11 Ruthwell Street, MONTROSE 7010
Victoria: Jack Stock, PO Box 21, SURREY HILLS 3127
Other states: via Victoria
LIGHT RAILWAY NEWS STATE NEWS EDITORS
South Australia: Arnold Lockyer, 6 Dunedin Street, DOVER GARDENS 5084
Tasmania: Ken Milbourne, 11 Ruthwell Street, MONTROSE 7010
Victoria: Frank Stamford, 9 McGregor Street, CANTERBURY 3126
Western Australia: David Whiteford, 102 Cohn Street, KEWDALE 6105
Other states/territories: write to Hon.Editor (see front cover)
---

NOTES, CORRECTIONS AND COMMENTS
2 ft GAUGE STEAM LOCOMOTIVE FOR SALE -
YALLOURN FOWLER DIESELS.
Phil Rickard points out that in LRN 106 (p.13 & 18), your Editor has further muddied the waters about the three SECV 0-6-0DM locos, John Fowler 4210049, 4210050 and 4210051 of 1951. These were numbered 12, 13 & 14. The first is now with Skilled Engineering, Yallourn and the third with the Walhalla Goldfields Railway, while the second has been scrapped. (Fowler 4210052 was a standard gauge loco which never came to Australia).
Apologies.
TRAIN SYSTEMS - YALLOURN AND MORWELL OPEN CUTS
by J.A. Vines. Published by Generation Victoria 1994. This major work has 260 pages and includes many photos, maps and drawings. It was researched and written by ex-SEC employees, having been commissioned by the SECV Yallourn just before its dismemberment and with the knowledge that the "grim reaper" was coming! It is a fitting epitaph to the SEC railways of the brown coal open cuts and the interconnecting line. Watch the sales list for availability.
CANE TRAIN.
The New Zealand Railway & Locomotive Society reportedly have a special offer on this definitive book on Fiji's Sugar Tramways, which at NZ$25 posted is excellent value (PO Box 5134, Wellington).
RESEARCH COLUMN
WARBURTON, VIC.
Mike McCarthy is preparing a manuscript dealing with the Warburton area. He is currently trying to sort out the steam locomotives that worked on the tramway from La La to Big Pats Creek. The following locomotives are believed to have operated on the line. However, the period of operation for each is uncertain as indeed is the claim that they actually did work on the line! The arrival date of Fowler 5851 is definite, but all else is open to question!
Fowler 5851 of 1889. Arrived at Warburton in 1909. Departure date?
Fowler 13576 of 1918 (1913? - Ed.) Date of arrival at Warburton? Departure date?
Fowler 15989 of 1923. Date of arrival at Warburton? Departure date?
Barclay 311 of 1888 (Kerr Stuart 539 of 1896). Date of arrival at Warburton? Departure date? Was it ever there?
Mike would welcome any clarifying information at 27 Verbena Avenue, THE BASIN, Vic. 3154.
MINING IN THE ALPS.
Phil Rickard writes of the displays at the Bright Gold Shop & Museum. One photograph, of exceptional clarity, is entitled Mining - Australian Alps. It depicts, five large brand-new 4-wheel V-shaped side tipping skips carrying the painted name Geo W Kelly, Makers, Melbourne. Two of these skips have brakesman's platforms with screw-operated brakes and brakemen at the ready. The rake appears to be gravitating from a mine adit towards a battery along newly-completed track of 2 ft or 2 ft 6 in gauge. Shop proprietor Rob Kaufman, believes the photo was taken around Harrietville early this century. Any ideas, readers?
Contemporary photos show that tramways were/are in use at Williams United, Wandiligong; Red Robin, near Mt.Hotham (at 5,800 ft Australia's highest industrial railway?); Victoria mine, Wandiligong; and Sambas mine, Harrietville. Needless to say, as at any mine, permission must be obtained to visit if the lease is current.
A browse in the Bright Gold Shop can definitely be recommended (Phone (057) 55 1209 to check opening hours). A good range of books are on sale including a booklet with do-it-yourself historic mine walks, written and mapped by Rob. An excellent concept that could be easily (?) be adopted by some keen member in relation to timber mills.
EARLY INTERNAL COMBUSTION LOCOS.
John Robin writes about an article he recalls in the magazine Railways of Australia dating from the late 1940s or 1950s which told of a very early locomotive powered by an Otto gas engine at use on a tramway between Darebin and Merri Creek in Melbourne's northern suburbs. Can a reader provide further details?
TARONGA PARK ZOO.
David Burke provides a photograph of the train which operated at the zoo, which he found in the Mitchell Library's videodisc pictorial records. .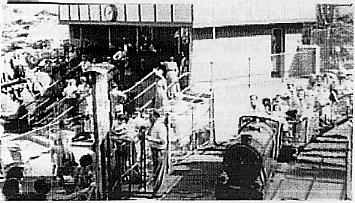 ---

FIELD REPORT
Norm Houghton has recently visited the Mt.Isa - Cloncurry area and travelled to Bellara, not far south of Mary Kathleen. This was the terminus of the 3 km 2 ft gauge tramway to the Wee McGregor mine. The site is accessible today and includes a tunnel near the mine end of the line.
---

LOCOMOTIVE, ROLLING STOCK & EQUIPMENT MANUFACTURERS
BUNDABERG FOUNDRY ENGINEERS LTD
(see LRN 106 p.3 & 107 p.5)
The two Walkers 73-class B-B DH units rebuilt for Mackay Sugar were delivered during August, with 692 of 1972 leaving for Farleigh on August 7th, and 707 for Marian on about 14 August.
The Walkers DH-class B-B DH unit 633 of 1969, rebuilt for Bundaberg Sugar, had left the works by 7 August, but it is unknown at this stage which mill it was delivered to, although Bingera seemed a likely destination.
Bob Gough 8/95; Tony Wells 8/95
VALE ENGINEERING PTY LTD, Moss Vale
(see LRN 99 p.3)
Vale Engineering, a Kembla Coal & Coke subsidiary (in turn wholly-owned by CRA) did not close in 1993, as seemed possible, but its closure was announced to take place from the end of July.
Sydney Morning Herald 6/7/95 via Ray Graf
---

NEW SOUTH WALES
AUSTRALIAN NEWSPRINT MILLS LTD, Albury 1435 mm gauge
On 16 June, a 4wDM Com-Eng Aresco (Adelaide) Track Chief high rail tractor (a road-rail vehicle) was noted shunting newly arrived containers into the paper mill.
BHP LTD, Port Kembla 1435 mm gauge
(see LRN 107 p.6)
Three ex NSW SRA locomotives have been leased to BHP for use on coal trains between its mines and the Port Kembla steelworks. These locos have been made available by Austrac Ready Power of Junee and are A.E. Goodwin Co-Co DE units 44229, 44233 and 4537. They are now numbered 101, 102, & 103 respectively. Apart from repainting in BHP corporate livery, modifications carried out include removal of dynamic brake equipment, fitting of exhaust silencers and fitting of cab air conditioning as well as additional external warning lights. In addition 4537 has had its end hood shortened and lowered allowing twin cab windows to be fitted above the lowered hood. (Could a reader please supply builder's numbers for the above?)
On 15 July, 101 and 102 were noted running coal trains between Unanderra and Elouera Colliery, Wongawilli. It is reported that a triple header had run on 10 July, while during the week there had been several permutations of single and double-headed running.
Railway Digest 8/95 via Bob McKillop;
Ray Graf 8/95; ARHS Bulletin 9/95
BHP LTD, Elouera Colliery
This colliery was previously known as Wongawilli (see LRN 82 p.9). A strange warbling sound attracted the attention of the visitor which was revealed to emanate from the upper counterweight car on the access incline. Solar panels are mounted on this vehicle, obviously to keep onboard batteries charged. The batteries power the warning signal but it is not clear whether this starts automatically when the car begins to move, or is started remotely by the incline winch operator.
BLACK DIAMOND HERITAGE CENTRE, Bulli 1435 mm gauge
(see LRN 102 p.4)
The transfer of Hudswell Clarke 0-6-0T SOUTH BULLI No.2 (297 of 1888) from Albion Park has been completed. It is displayed outside the old Bulli station with a 4-wheel non-air hopper wagon and an ex-AIS CHG-type brakevan. The museum display at the centre is open on Sundays from 10 am to 4 pm.
CLUTHA COAL PTY LTD 1067 mm gauge
(see LRN 106 p.4)
A clearance auction was held on 23 August at Allied Camp, Ridge Road via Oakdale with a number of rail items advertised for sale. These included:
LOT     One heavy duty bogie flat car, 6m x      
171     2.1m                                     

LOT     One rail mounted 5000l. water tank.      
314                                              

LOT     approximately 48 steel coal skips,       
416     8-tonne capacity.                        

LOT     six 4-wheel equipment transporter flats  
447                                              

LOT     six 40-man drift passenger cars, steel   
525     construction. Three carried numbers: 2,  
        3 & 8.                                   

LOT     one 4wDH loco "numbered" B and carrying  
540     reflectorised plate "No.2 loco."         
        Six-cylinder diesel engine. Hydrostatic  
        motor on rear axle and cardan shaft to   
        front axle. Reportedly ex-Nattai North   
        Colliery, this unit was obviously used   
        for some time on the surface as a        
        raised canopy on pipe posts had been     
        fitted (but was now dangling off).       

LOT     one 4-wheel dolly car - cable operated   
553     - with reflectorised plate "1"  

Not included in the sale were four 4-wheel vehicles earmarked for "Oak Historical Society": one carrying a wooden box/skip, one with a wooden body, one a steel coal truck and one a service (rerailing?) vehicle.
ILLAWARRA LIGHT RAILWAY MUSEUM SOCIETY LTD, Albion Park 610 mm gauge
(see LRN 107 p.6)
A steam gala open day is being held on Sunday October 8th to celebrate the return to steam of Hawthorn Leslie 0-4-0ST Burra (3574 of 1923). Three steam locomotives will be in use and the day will feature double headed and night running and the commissioning of the new loco shed / servicing centre.
INDUSTRY WORLD, Wollongong
A press item refers to the activities of Industry World which "has received $135 000 federal funding for a new information centre located on the builders tip with the new narrow gauge railway project." Can any reader provide any information?
Illawarra Mercury 5/8/95 via Ray Graf
KEMBLA COAL & COKE PTY LTD, Illawarra Coke Works, Coalcliff & Corrimal Coke Works 1435 mm gauge?
(see LRN 96 p.10)
Kembla Coal & Coke has put its cokeworks up for sale. Funds generated would be put towards further development at the company's West Cliff and Tahmoor coal mines.
Illawarra Mercury 5/8/95 via Ray Graf
JACK KENNEDY, Broken Hill 610 mm gauge?
(see LRN 94 p.8)
The three 4wBE locos noted previously are still for sale at the previously advertised prices. A battery charger may be available for the 5 tonne loco, but not for the 3-tonners, and the batteries in all three will probably need replacement. Also on site are three Eimco-25 boggers, two in yellow paint (one with serial number 0245 and the other numbered B2501) and the third in blue paint. Any interested buyer should contact Jack at 28 Kanandah Place, BROKEN HILL. Phone (080) 88 5793 (w); (080) 87 6716 (a/h & fax)
THE MANILDRA GROUP, Manildra 1435 mm gauge
(see LRN 106 p.4)
On 25 May, Co-Co DE MM01 (Clyde 62-257 of 1962) was noted shunting the yard at the mill. Walkers B-B DH 7340 (702 of 1972) had gone from the yard, and was possibly the unit observed at a distance at Parkes a few days before.
ROYAL AUSTRALIAN NAVY, Newington Armaments Depot 610 mm gauge
(see LRN 74 p.9 & 99 p.6)
A decontamination bill of $84m will be required to be paid before the site can be utilised for Olympic Village construction. This was predictably a bone of contention between Federal and State governments.
The Sun-Herald 4/6/95 via Ray Graf
SILVERTON GAOL & MUSEUM various gauges
(see LRN 90 p.9)
The battery electric loco 1 (and battery box TB2) previously in the backyard here has been moved to the front, and repainted. Unfortunately the number formerly carried on the loco has now been obliterated.
SILVERTON TRAMWAY COMPANY, Broken Hill 1435 mm gauge
(see LRN 106 p.6)
A number of STC locomotives were observed at Broken Hill loco on 17 August. These were A.E. Goodwin Co-Co DE locos 29 (83828 of 1961), 33 (win plain yellow livery without painted number or name), 4838, and an unidentified 442 class.
TRANSFIELD CONSTRUCTION PTY LTD - BOUYGUES JOINT VENTURE
A German Herren Knecht tunnel boring machine has been preferred to a French Bouygues design by the joint venturers for the construction of the new rail link between the city and Sydney Airport. (It seems likely that underground rail haulage may be use for this project.)
Sydney Morning Herald 27/7/95 via Ray Graf
WEST DARLING MACHINERY PRESERVATION SOCIETY, The Conservation Centre, 479 Crystal Street, Broken Hill, various gauges
This site is the one previously referred to as the SES area (see LRN 90 p.8). From a distance outside the only item previously seen here which could be confirmed was 2 ft gauge Ruston & Hornsby 4wDM 394021 of 1956. However, a new item seen was an apparent amusement park steam outline loco and carriages. The loco is internal-combustion driven and is low, wide and square so that it could at first could be taken for a rubber-tyred vehicle. The gauge seemed to be at least 3 ft 6 in, and wheel arrangement possibly 2-2w.
More details will no doubt be obtained during a visit in opening hours which are advertised as being 9 am to 12 noon Thursdays and Sundays.
ZIG ZAG RAILWAY CO-OPERATIVE LTD, Lithgow 1067 mm gauge
(see LRN 102 p.6)
Ex-Australian Iron & Steel unrebuilt Malcolm Moore 0-6-0DM 6 (26-204 No.6 of 1948) still with low profile cab as supplied for underground use, was noted on a work train at Lower Points on 27 May. [This, together Malcolm Moore 0-6-0DM 2 (26-204 No.2 of 1948) was photographed at Bottom Points in October 1994, but this had gone unremarked by your Editor]. Also noted was rebuilt Malcolm Moore 0-6-0DM Kemira (26204 No.11 of 1951) and Vulcan Foundry 060DM Mount Lyell (D194 of 1953).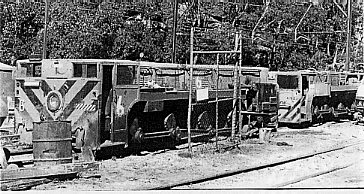 Malcolm Moore 0-6-0DM units 6 & 2 at Bottom Points, Zig Zag Railway on 15 October 1994
---

QUEENSLAND
FRANK ASTON ROTARY MUSEUM, Mt.Isa
Some rail-mounted mining vehicles were noted to be present in this museum, which might bear further examination.
AUSTRALIAN NARROW GAUGE RAILWAY MUSEUM SOCIETY INC, Durundur Railway, Woodford 610 mm gauge
(see LRN 107 p.7)
The official opening of the restored D'Aguilar Railway Station building at Woodford was to be carried out by the Mayor of Caboolture Shire on 23 September. This was to be followed by the official opening of the Herb & Cottage Display Garden at Peterson Road, Woodford, currently the site of the railway's terminus.
BABINDA SUGAR LTD 610 mm gauge
(see LRN 106 p.7)
The derelict Malcolm Moore 4wDM at the mill is confirmed as number 20 (1057 of 1943). The other Malcolm Moore 4wDM (1011 of 1943) was noted outside the loco shed in August together with Plasser KMX 12T ballast tamper 249 of 1982.
BUNDABERG SUGAR LTD., Mourilyan Mill 610 mm gauge
(see LRN 105 p.10)
The unidentified Malcolm Moore 4wDM has been repainted and was noted on the head of a navvy train in the mill yard in August. Some cane arrives at the mill by road transport (presumably from south of Tully - Ed.) It is tipped into a receiving bin and then transferred to rail bins by a tractor-mounted front-end loader, seemingly a somewhat inefficient method.
CSR LTD., Herbert River mills 610 mm gauge
(see LRN 107 p.7)
Regular cane transfers from Victoria to Macknade commenced on 28 June using Macknade's E.M.Baldwin B-B DH 20 (7070-4-4-77 of 1977) and E.M.Baldwin brakewagon 1 for one trip each day on the afternoon shift. A large tonnage of cane was transferred from Macknade to Victoria using both mill's locos in late August when wet weather disrupted crushing. The planned working of Victoria Mill's sugar by a Macknade loco still seemed not to have commenced by late August.
Three 12-tonne bins have been trialed at Victoria Mill again this season, although one has since been badly damaged in a derailment. Three 6-tonners and two or three 4-tonners are also included in the trial rake for comparative purposes. They are taken around in their own little train rather than being in regular service. The 12-tonne 4-wheel bins have a limited degree of self-steering and are running with wheels machined to a variety of profiles to evaluate differential rates of wheel tread wear.
Victoria Mill's E.M.Baldwin 0-6-0DH Hobart (4413-1-7-72 of 1972) was on loan to Macknade from 22 June to 25 July. Victoria Mill's preserved Hudswell Clarke 0-6-0 Homebush (1067 of 1914) is again programmed to run in the Maraka Festival on 28 October.
A study into derailments is taking place. The total tonnages hauled in 1994 were: cane - 3.89m tonnes or 72 million tonne/kilometres; and sugar 574,150 tonnes or 11.44m tonne/km. The cost of cane derailments in the 1994 season was $434 000 giving a cost of 0.6c per tonne/km. The cost of raw sugar derailments was $350 000 or 3.06c per tonne/km.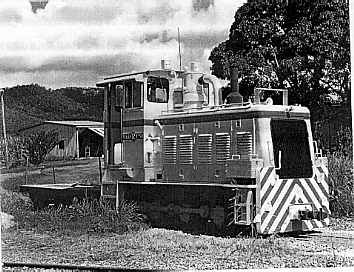 Macknade Mill's Clyde 0-6-0DH 12 (65-434 of 1965) with a short train on the Forrest Home leg of the south side triangle at Cordelia, 11 June 1995.
Hansen Linecar 4 was transferred from Macknade Mill to Victoria Mill late in the slack season. Linecar 2 went to Macknade in its place during the week ending 12 August.
Chris Hart 8/95; Herbert Valley Sugar News and Views
29/6/95 & 27/7/95 via Chris Hart
CSR LTD., Kalamia Mill 610 mm gauge
(see LRN 105 p.12)
PIONEER SUGAR MILLS LTD., Inkerman Mill
(see LRN 102 p.13)
Com-Eng 0-6-0DH Chiverton (C1030 of 1958) was transferred temporarily from Kalamia Mill to Inkerman Mill for a few weeks in June to relieve a shortfall in locomotive capacity at Inkerman.
Home Hill Observer 29/6/95 quoted in Sunshine Express 8/95
GRAHAM DANIEL, Tully 1067 mm gauge
(see LRN 97 p.8)
Avonside 0-6-0T 2043 of 1930 was noted in a yard in Tully reunited with its boiler. It has reportedly been sold to a buyer in the Brisbane area.
EQUIPMENT & MACHINERY SALES PTY LTD, Rocklea 762 mm gauge
Two white E.M.Baldwin 4wDH locos were sold at auction on August 3rd at a site at Grindle Road in the industrial suburb of Rocklea in Brisbane. One, Lot 53, was identified as 3937-7-6-71 of 1971 Model DH12M MkIV, while the other, Lot 54, was said to be "the same". (The first loco was last reported as being used by Codelfa in Western Australia in 1981(see LRN 25 p.17). However, the other two Baldwin locos used at Wungong were 8tonne types. It seems likely that the second loco sold at Rocklea was one of these, or like the first was possibly another of the ten 12-tonne machines used in the Thomson Dam construction in Victoria. - Ed.)
It is believed the locos were stored at a yard in Rocklea for several years, together with two concrete agitator cars.
David Mewes 8/95; Sydney Morning Herald 22/7/95 via Ray Graf
MACKAY CITY COUNCIL, Seaforth 610 mm gauge
A Dick Kerr 0-4-2T ex Marian Mill, believed to have been built in 1910, has been preserved at what was originally the Pioneer Shire Council park at Seaforth since 1964. Thirty years later, the loco has to be removed for safety reasons and is being offered for sale to narrow gauge enthusiasts. Enquiries / offers to purchase or remove should be directed to Mr. Mark Leyland (Director of Community Services) or Brian Delaney (Technical Officer Parks & Recreation) at Mackay City Council, PO Box 41, MACKAY 4740. Phone (079) 51 6444 up to Tuesday 31 October 1995.
Ian Comrie 8/95; Mackay Daily Mercury 13/9/95 via Editor 8/95
MACKAY SUGAR CO-OPERATIVE ASSOCIATION 610 mm gauge
(see LRN 107 p.9)
Farleigh Mill's rebuilt 73-class B-B DH loco (Walkers 692 of 1972) left the Bundaberg Foundry on 7 August and was at the mill by the 10th. It was reportedly to receive the name Calen but was not named and still not in traffic on August 22nd. The similar B-B DH for Marian Mill (Walkers 707 of 1972) left Bundaberg on about 14 August and was at the mill by the 16th. (Correct NSW SRA number for this is 7343, not 7345 as shown incorrectly in LRN 106.) It was to be named Tannalo. Both these units have received new Detroit 12VA engines as part of their rebuild. By 16 August, Tannalo nameplates had been removed from Com-Eng 0-6-0DH B1724 of 1957. This loco was to be renamed Netherdale, while the previous bearer of this name, Bundaberg Foundry 6wDM 13 of 1954 was reportedly to be withdrawn from service.
Bob Gough 8/95; Tony Wells 8/95; Ian Comrie 8/95; Editor 8/95
MOSSMAN CENTRAL MILL CO LTD 610 mm gauge
(see LRN 102 p.12)
All Bally Hooley Steam Express tours and mill tours were discontinued from June 1st 1995. Bundaberg Foundry 0-6-2TT 2 of 1952, originally Mossman Mill's Bundy, is to be retained, but Bundaberg Foundry 0-6-2T 6 of 1952, Bally Hooley, is reportedly for sale together with the passenger carriages. The commuter passenger service at Port Douglas continues to operate with good loadings but it is understood that the mill is seeking expressions of interest from parties wishing to continue its operation. (This report puts under question the reported involvement of southern interests in the steam operation as referred to in LRN 105 p.8.)
It is reported that John Fowler 0-6-0T Faugh-A-Ballagh (8733 of 1900) is to be cosmetically restored to be returned for display at Port Douglas.
Sunshine Express 7/95 via Editor;
Ian Comrie 8/95; Tom Porritt 8/95; Bob McKillop 8/95
MOUNT ISA MINES HOLDINGS LTD 1067 mm gauge
(see LRN 79 p.14)
Mt.Isa Mines has 130 km of tramline underground. Underground tours are booked out three months in advance, so planning ahead is essential if you wish to do the trip. To be standing in 50 degree heat one mile below the surface in a shaft whose walls are at 60 degrees in near darkness is an experience not to be missed. However, surface tours can be booked on the day and provide much of railway and tramway interest from the bus window.
There is a central train control on 19 level and two sets of ore trams of 15 wagons run continuously from the ore stopes to the underground crushers. A planned viewing of an ore dump into the crushers was cancelled due to a derailment. Several service trams run as required delivering aminex and fuel oil (the explosive mixtures). The lower levels are worked by electric rubber-tyred trucks using an overhead trolley wire. system.
About 10 haulage cars were noted in a surface scrap yard, together with a battery electric loco numbered 1782 (is this Fox 4wWE/BE 002 of 1972, formerly numbered 782? - Ed.)
Walkers B-B DH 589 of 1968 (ex DH7) was sold to MIM by QGR in 1991 for surface use.
Norm Houghton 8/95; Editor
MULGRAVE CENTRAL MILL CO LTD, Gordonvale 610 mm gauge
(see LRN 106 p.10)
Walkers B-B DH 595 of 1968 (rebuilt by Bundaberg Foundry 1995) has been named Gordonvale. This unit normally works to Redlynch over the Brinsmead Gap making use of a new 35 tonne bogie brake wagon fitted with disc brakes. Its largest load on the return trip over the gap is said to have been 110 full bins. Walkers B-B DH 613 of 1969 (rebuilt by Bundaberg Foundry 1995) has been named Mulgrave. This loco normally works to the south, to Fishery and Deeral.
Additional locos reported to have been painted in the new peppermint green and yellow livery are:
2 0-6-0DM Com-Eng A1001 1955
7 0-6-0DH Com-Eng B1010 1956
11 0-6-0DH E.M.Baldwin 4413-2-8-72 1972
Com-Eng 0-6-0DM 4 (A1004 of 1955) is undergoing an extended engine overhaul and may not be returned to service this season.
It is reported that the mill is considering the disposal of several of its smaller main line locomotives and that a number of inspections with a view to purchase have been made. Locomotives reportedly for sale at a price of $20 000 each are:
1 0-6-0DM Baguley 3377 1953
6 0-6-0DH Com-Eng A1006 1955
14 0-6-0DH Clyde 56-86 1956
15 0-6-0DH Clyde 58-190 1958
16 0-6-0DH Clyde 56-96 1956
A late report suggests that locos 1 & 16 are to be sold to the Rotary Club of Wynnum and Manly acting on behalf of the "St.Helena Tramway Preservation Society".
Most growers are now using tipper elevator trailers to load cane into the bins at the siding rather than taking them infield. This has led to the trialing of ten 4-wheel 10-tonne bins this season, with nine having been supplied recently by the Boogan Implement Co.
The Mulgrave Rambler tourist train now operates on a charter only basis. It is reported that only a few trips have been made this year, using Baguley 0-6-0DM 1 (3377 of 1953) as motive power. John Fowler 0-4-2 Nelson (20273 of 1934) has reportedly not been in steam since the mill centenary on 24 April 1994.
Observed in August was Motor Rail Simplex 4wDM 10450 in the navvy area, while two other Motor Rail units (2090 of 1922 & 4207 of 1929) were out of use nearby. The Mulgrave Mill-built 4wDM of 1962 was shunting the truck shop.
Tom Porritt 8/95, 9/95; Bob McKillop 8/95
NATIONAL PARKS & WILDLIFE SERVICE, St.Helena Island 610 mm gauge
(see LRN 63 p.8)
An application by the Crown for "the construction of a tramway at St.Helena island, Moreton Bay" under Section 37 of the Queensland Heritage Act 1992 has been advertised. The application states that no relics of the tramway remain apart from the formation.
St.Helena Island operated as a prison from 1867 to 1933. The tramway on the island is understood to have operated from 1888 originally using convict-powered flat wagons. A horse tram was used from 1898.
The proposed tramway will run from the shore end of the causeway to the old blacksmith's shop along original formation with a new branch to a storage shed. "Iron rails" and "ironwood sleepers" were acquired as a 1988 bicentennial project which was not completed. The second stage is the acquisition of non-heritage rolling stock to operate the tramway. This seems to have begun with the reported sale of Mulgrave Mill's Baguley 0-6-0DM 1 (3377 of 1953) and Clyde 0-6-0DH 16 (56-96 of 1956) to the Rotary Club of Wynnum and Manly acting on behalf of the "St.Helena Island Tramway Preservation Society" in September 1995.
Greg Stephenson 7/95; Courier-Mail 22/7/95
via Greg Stephenson; Tom Porritt 9/95
JOHN HOLLAND CONSTRUCTION & ENGINEERING PTY LTD
See PLANE CREEK CENTRAL MILL CO LTD
PLANE CREEK CENTRAL MILL CO LTD, Sarina 610 mm gauge
(see LRN 107 p.9)
The southern cane railway from Koumala to Karloo was placed into full operation on July 18th, with construction having been completed by John Holland the day before.
Two new bogie brake wagons, constructed by Mackay firm Anderson Rea were delivered a few days before for use with the three rebuilt Walkers DH class B-B DH locos. They incorporate regauged QR bogies. The Walkers locos have received identifying numbers at each end, presumably as an aid to recognition by mill staff, duplicating existing loco numbers at the mill. They are
1   Allan    B-B DH  Walkers 594      (reb.BFE DH12    
Page                     1968     1995)            

2   Karloo   B-B DH  Walkers 630      (reb.BFE DH48    
                             1969     1995)            

3   Koumala  B-B DH  Walkers 651      (reb.BFE DH64    
                             1970     1995)            



(Please note that the identification for ALLAN PAGE given in LRN 107 was incorrect).
SOUTH JOHNSTONE MILL LTD 610 mm gauge
(see LRN 106 p.12)
Baguley 0-6-0DM 10 (3390 of 1954) was noted outside the Engineers Office with the Turtles Express carriage. Mill tours still operate on a daily basis during the crushing season. Malcolm Moore 4wDM 17 (1060 of 1943) was noted with a number of other locomotives in the loco storage shed.
Cane from new areas on the Atherton Tableland is being hauled to the mill by road in 14-tonne bins which are transferred onto rail transporter bogies using an overhead gantry crane at the northern end of the mill yard. The rail vehicle observed in December (see LRN 105 p.15) was clearly a prototype of the transporter. B-double trucks convey three bins at a time to the mill yard, and there are 38 bins in use. On August 24th, freshly painted Com-Eng 060DH 19 (AH4688 of 1965) was working the Atherton Tableland bin train.
Ian Comrie 8/95; Bob McKillop 8/95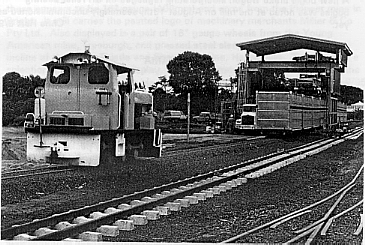 South Johnstone Mill's Com-Eng 0-6-0DH 19 (AH4688 of 1965) was shunting 14-tonne bin containers for Atherton Tableland cane at the new transfer gantry on August 24th 1995. Note the new main line track construction in progress on the adjacent line.
SUGARWORLD, Edmonton 610 mm gauge
(see LRN 105 p.15)
The former Sugarworld theme park has now closed to make way for urban subdevelopment. The Assemblies of God church has taken over the administration building and access to the site is restricted to church members. E.M.Baldwin 4wDH 9109-1-9-80 of 1980 and two passenger cars were noted on site on August 24th, but it was impossible to tell whether static Hudswell Clarke 0-6-0 1549 of 1924 was still present. These items may still be owned by CSR.
TULLY SUGAR LTD 610 mm gauge
(see LRN 105 p.16)
A new bogie brake wagon incorporating regauged ex QR roller bearing bogies was noted at the mill on 15 August, seemingly uncommissioned as yet.
---

TASMANIA
COPPER MINES OF TASMANIA PTY LTD, Mount Lyell Mine 610 mm gauge
The new operators of the Mt.Lyell mine arranged an auction on 15 March 1995 as part of its rationalisation of operations for future development. Included in the sale were two 2 ft gauge battery locomotives built in 1972, each with two 25 hp motors and complete with battery packs. Can any member provide any details?
---

VICTORIA
ALEXANDRA TIMBER TRAMWAY & MUSEUM INC 610 mm gauge
(see LRN 105 p.17)
From 1 July, the Shire of Murrindindi became the lessees of the railway land at Alexandra, making it securely available for ATT&M use. Work has commenced on the reconstruction of the Rubicon Tramway within Alexandra township. Motor Rail Simplex 4wDM 10058 of 1948 has been selected to head the construction train and will soon be in use on this task.
Timberline 1/8/95 via Ray Graf
ALLIANCE GOLD MINES NL, Maldon
Alliance Gold Mines has started gold mining beneath the old Union Hill North open cut after completing a 260 m decline from the base of the pit. (It seems quite possible that rail equipment will be in use.)
Sydney Morning Herald 25/7/95 via Ray Graf
THE BRIGHT GOLD SHOP & MUSEUM, Bright, narrow gauge
This fascinating shop, dedicated to the Upper Ovens goldfields, is situated at Shop 6, Riverside Avenue, Bright. The museum display, housed in the rear section of the shop, covers all types of gold-mining: alluvial, deep-lead, dredging and quartz reef mining. Of interest are the two 4-wheeled half ton box trucks (they actually hold between 8 and 10 hundredweight). One of these appears to be 16 in gauge (406 mm) and came from the Pioneer mine in Bright. It still carries the painted logo of machinery merchants Miller & Co Pty Ltd. Also displayed is a pair of 16 in gauge wheels from the Young American mine, Freeburgh, and pressed steel sleepers from the 2 ft gauge incline of the Rose, Thistle and Shamrock mine, Harrietville. There is also a selection of dogspikes on display, some of commercial origin and others the result of the labours of bush blacksmiths.
COOK'S CONSTRUCTION PTY LTD 900 mm gauge
See COAL CORPORATION OF VICTORIA
SKILLED ENGINEERING LTD, Yallourn 900 mm gauge
See COAL CORPORATION OF VICTORIA
COAL CORPORATION OF VICTORIA 900 mm gauge
(see LRN 106, p.12)
Coal Corporation of Victoria (trading as Energy Brix Australia) acquired ownership of the Yallourn-Morwell Inter Connecting railway on 16 August 1994. Cook's Construction are contractors to operate and maintain the railway, while Skilled Engineering presumably maintain the rolling stock.
As suggested in LRN 106, passenger trains were run on the 14 km Inter Connecting railway on Saturday 2 September 1995. The trains consisted of a new NBW passenger car built by Skilled Engineering for the Walhalla Goldfields Railway, hauled by Cook's Construction Walkers B-B DH loco CC01 (586 of 1968). The carriage had been placed on 900 mm gauge bogies for a test run in August. It was originally intended to use Skilled Engineering's Fowler 0-6-0DM Pride of Yallourn (4210049 of 1951), but the DH was used instead because the Fowler would have been too slow. A pity from the aesthetic viewpoint, as the DH towered above the NBW car. Six trips were run, two for Walhalla Goldfields Railway personnel, two for members of the Rail Tourist Association Inc. (as the RTA were not able to completely fill two trains, at the last minute they made ten places available to the LRRSA) and two for Skilled Engineering workers and their families who had donated hundreds of hours to the carriage project.
John Fowler 0-6-0DM Pride of Yallourn is now painted in an extremely ornate livery. The colours are basically royal blue, yellow and white, with pale blue lining and black and yellow stripes on the buffer beams. There are also a few touches of red. In addition the loco bears its name painted in a decorative script in a pinkish shade on the cab side. That may all sound over the top, but the job has obviously been done with great care. It is a marked improvement on SEC grey. No longer No.12, it is now numbered 1!
Normally coal trains are operated over the two night-time shifts, leaving the day shift free for track maintenance. Operation of the special passenger trains occupied the whole of the day-shift period, with trains being run at approximately 80 minute intervals.
The railway offers an interesting contrast in views, with the highly industrial scenes of the Yallourn and Morwell open cuts, distant views of mountains, and cows grazing in nearby fields. Noted was the track rationalisation at Yallourn, a double-headed train "dead" under the coal loader, the better standard of track around the East Field deviation and the improved track elsewhere, the complete removal of the overhead wire and the recent removal of No.9 loop near the Morwell River (leaving No.8 as the sole loop). Average speed was about 30 kph.
At Morwell the train halted over the ditch bunker so passengers were forbidden to detrain there. A wise move, as instead of a platform, there was about a six-metre drop into a heap of brown coal. A photostop at the Morwell River trestle bridge on the return journey was much appreciated.
The passenger car was numbered NBW1 and is shortly to be delivered to the Walhalla Goldfields Railway. It may be incorrectly numbered, as it is understood that NBW1 has already been delivered to the WGR. Another inconsistency was that this vehicle had the word FIRST painted on the side, in which case it should be an NAW.
Seating 36 in comfort, the car has 2+2 seating using ex-NSWGR throw-over seats. Built to Victorian Railways narrow-gauge design, but wider to accommodate the seating, it is complete with clerestory roof, end platforms and generously-sized windows. Although a comfortable, well built vehicle which retains something of the aura of the 1900s, it is obvious that it is not built of timber.
There is unlikely ever again to be passenger train running on the Inter Connecting Railway. Impending government legislation for tourist railway accreditation means that Cook's will be prohibited from running future passenger trains.
Frank Stamford 9/95; Phil Rickard 9/95
EMERALD TOURIST RAILWAY BOARD, Puffing Billy Railway 762 mm gauge
(see LRN 107 p.15).
A State Government Grant of $500,000 has been received to help finance capital works. It seems unlikely that any of this will be used on the Gembrook restoration. A carriage shed at Belgrave seems to have very high priority.
On the weekend of 19-20 August, track was laid from Cockatoo station to within about 100 metres of Cockatoo Creek bridge (bridge No.9). No further track laying on the main line is considered practical until either bridge No.8 or 9 is built. All of the track from Fielder station to Cockatoo Creek is unballasted, and funds are not available to buy the 2500 tonnes of ballast required.
Trains will be running at Gembrook on the weekends of 30 September/1 October, 30/31 October, 25/26 November, 23/24 December, 24/25 February 1996, 30/31 March, 27/28 April, and 25/26 May. In all cases the Saturday is Gembrook market day. A new timetable will be in operation.
On Saturdays trains will depart Gembrook at 9.30, 10.15, 11.00, 11.45, 12.30, 1.30, 2.30, and 3.15. The 1.30 and 3.15 trains will go to Fielder, a 47 minute round trip. All the others will go to Fielder Bridge, a 30 minute round trip. On Sundays, trains will depart Gembrook at 10.30, 11.30, 12.30, 1.15, 2.15, and 3.00. The 11.30, 1.15 and 3.00 trains will go to Fielder; the others will go to Fielder Bridge.
GOULBURN - MURRAY RURAL WATER AUTHORITY, Tatura 610 mm gauge
Ruston & Hornsby 2 ft gauge 4wDM 285342 of 1949 is still held at the pre-cast plant at the Goulburn-Murray Water depot.
Steven Fox (GMRWA) via Phil Rickard
GOULBURN-MURRAY RURAL WATER AUTHORITY, Waranga Basin 610 mm gauge
(see LRN 59 p.11 & LRN 98 p.15)
The site was visited on 18 March 1995. The tramway depot area is at the western end of the reservoir wall, adjacent to the Rushworth-Tatura road. The 4wDM loco, numbered 18C25, was built by G.Sewell of Footscray in 1959. It hadn't moved since May 1994 and was extracted from the loco shed with some difficulty. Its original petrol engine was replaced by a Petter diesel in 1971/2. It may have originally had only one driven axle. A flat truck was also pushed out of the shed.
Six additional items of rolling stock were noted in the works yard, all built on skip frames. They were :
an open top rectangular metal bin which holds about ½ cubic yard of screenings and sand with a tool compartment below. Bags of cement can be carried on top.

a flat truck for carrying a portable cement mixer.

a flat truck with a rack to accommodate six extension chutes (to enable cement to be placed anywhere on the dam wall) and a mounting for a water tank.

the so-called caboose a sprung vehicle for workers. Has a leaf spring, wooden floor and corrugated iron sides and roof.

two side-tipping skips, one with a plant class 17-C painted on it, carrying builder's plates G.C. Sewell, Cross Street, West Footscray. Frames are made of channel steel manufactured by Frodingham Iron & Steel Co. Ltd, with some axle boxes lettered MD.
The railway, used for servicing the dam wall, was noted to be in situ for 2.3 km along its crest, with the remaining 5 km converted to roadway. It appears that the line was cut back progressively in the 1970s and 80s. Since the visit, it is understood that the remaining rail has been removed from the dam wall and tenders called for the disposal of the railway. A few hundred yards of track are understood to remain from the dam wall to the quarry. However, the Alexandra Timber Tramway & Museum's newsletter suggests that the ATTM may become involved in overseeing the development of a working tramway museum on the site, presumably utilising the remaining track.
Phil Rickard 8/95; Timberline 1/8/95 via Ray Graf
RED CLIFFS HISTORIC STEAM RAILWAY INC. 610 mm gauge
The Red Cliffs Historic Steam Railway Inc. has undertaken to construct a 610 mm gauge tourist railway on a portion of the former Victorian PTC branch line from red Cliffs to Morkalla. Approximately 1800m of track was retained where the branch diverges from the Melbourne to Mildura main line.
The former SR&WSC Kerr Stuart 0-4-2T 742 of 1901 (should it be 743? - Ed.), which was withdrawn from service in 1953 and preserved in Red Cliffs township from 1955, will be used as motive power. The locomotive was completely restored to working order by Sunraysia Steam Preservation Society in 1987 (see LRN 80 p.16) and is owned by the Rotary Club of Red Cliffs. It is proposed that the loco be placed in trust with RCHSR.
Two bogie carriages have been built and are housed in a substantial purpose-built shed with pit and servicing facilities. Track construction is well advanced using 60 lb AS rail from the former branch line and takes the form of a balloon loop with triangle connections. The line will extend for about 1500 metres where a loop will be built at the terminus. New red gum sleepers, crushed rock and limestone ballast are being used in construction.
The Victorian Government's Rail Safety Act has necessitated the granting of Accreditation before trains can begin running, and an application is in course of preparation.
Interested members might care to contact Bruce McLean at PO Box 285, MILDURA 3502 to become involved in this project.
SANDHURST TOWN MANAGEMENT PTY LTD, Eaglehawk 610 mm gauge
(see LRN 97 p.19)
This theme park has closed and will be moved to a new site with another tourist attraction. The Perry 0-6-2T 7967.50.3 of 1950 here has only seen occasional use. (This unit was ex Babinda Mill, not Tully Mill as shown in LRN 97).
Rail News Victoria August 1995 via Bob McKillop
---

WESTERN AUSTRALIA
KALAMUNDA HISTORY VILLAGE 1067 mm gauge
This extensive folk museum is established in the former WAGR station yard. The display of artefacts and photographs covers the ownership of the railway by the timber company (1891-1903) and the subsequent government railway ownership until closure in 1949. The village is open from 10 am to 3 pm Monday to Thursday, 9.30 am to 3 pm Saturday, and 1.30 pm to 4.30 pm Sunday.
---

OVERSEAS - FIJI
FIJI SUGAR CORPORATION 610 mm gauge
(see LRN 102 p.19)
Strikes by lorry drivers disrupted production at Lautoka and Rarawai Mills in July. About 350 lorries bring cane by road to Lautoka Mill, mostly from areas also served by tramway, and drivers wait in long lines for many hours to unload. The drivers are demanding that the mills provide them with toilets and canteen facilities. They would also like faster turn around facilities at the mills. (One suspects that FSC is not keen to encourage further cane to go by road even though the substantial tonnages presently handled must relieve pressure on the mill rail systems - Ed.)
Courier-Mail 25/7/95 via Editor
SUVA CITY COUNCIL, Thurston Gardens, Suva 610 mm gauge
(see LRN 102 p.27)
Hudswell Clarke 0-6-0 1663 of 1936 was cut up on site in mid-July 1995 as it had become a safety hazard to children.
The Fiji Times 19/7/95 via Gerry Verhoeven
---

MEETINGS
MELBOURNE
AGM & The Toy Railway.
Ted Stuckey recently returned from a visit to India where he was able to spend some time visiting the Darjeeling Mountain Railway. He returned with plenty of knowledge and much video footage. Ted will speak about the railway and will show his video at the October Meeting.
LOCATION: Ashburton Uniting Church Hall, Ashburn Grove, Ashburton.
DATE: Thursday 12 October at 8.00 pm.
SYDNEY:
Wolgan Valley The Division's annual tour this year will be to Newnes to view the remains of the shale works and associated railways. Our guide on this visit, Alan Watson, will give us the benefit of his years of research and time spent in the Wolgan Valley. As a prelude to this trip Alan will speak on the valley as it was as one of Australia's largest industrial undertakings and set the scene for our tour.
LOCATION: Woodstock Community Centre, Church St Burwood
DATE: Wednesday 25 October at 7.30 pm
ADELAIDE:
Contact Arnold Lockyer for details. Phone: 08-2969488
LOCATION: 150 First Avenue, Royston Park.
DATE: Thursday 5 October at 8.00 pm.
---
---
This page is prepared and maintained for the LRRSA by Frank Stamford and copyright © by LRRSA. Last updated on 25 October 1996.
HTML by Brunel Gooch Information Systems Pty Ltd.
---