LIGHT RAILWAY NEWS
Published by The Light Railway Research Society of Australia
Hon.Editor: John Browning, PO Box 5646, MACKAY MAIL CENTRE, Q. 4741
---
NUMBER 100 JUNE 1994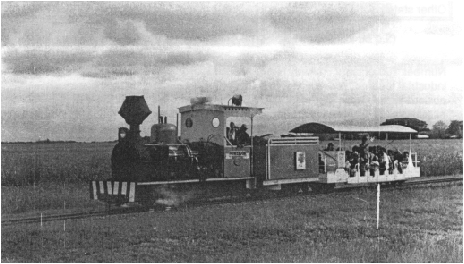 Wet season clouds gather as Hudswell Clarke 060 HOMEBUSH (1067 of 1914) heads the Decauville carriage on a Victoria Mill Social Club Christmas party special along the Four Mile line, 18 December 1993.
Photo: Chris Hart
---
Contents
RESEARCH COLUMN
LOCOMOTIVE & ROLLING STOCK MANUFACTURERS
QUEENSLAND
SOUTH AUSTRALIA
VICTORIA
WESTERN AUSTRALIA
OVERSEAS - FIJI
---

LIGHT RAILWAY RESEARCH SOCIETY OF AUSTRALIA
Secretary: Jack Stock, PO Box 21, SURREY HILLS 3127
Membership Secretary: Andrew Hennell, PO Box 21, SURREY HILLS 3127
Editor Light Railways: Norm Houghton, PO Box 1128, GEELONG 3220
LRRSA STATE CONTACTS
New South Wales: Craig Wilson, 18 Rodney Avenue, BEECROFT 2119
South Australia: Arnold Lockyer, 6 Dunedin Street, DOVER GARDENS 5084
Tasmania: Ken Milbourne, 11 Ruthwell Street, MONTROSE 7010
Victoria: Jack Stock, PO Box 21, SURREY HILLS 3127
Other states: via Victoria
LIGHT RAILWAY NEWS STATE NEWS EDITORS
South Australia: Arnold Lockyer, 6 Dunedin Street, DOVER GARDENS 5084
Tasmania: Ken Milbourne, 11 Ruthwell Street, MONTROSE 7010
Victoria: Frank Stamford, 9 McGregor Street, CANTERBURY 3126
Western Australia: David Whiteford, 102 Cohn Street, KEWDALE 6105
Other states: write to Hon.Editor (see front cover)
---

EDITORIAL
Number 100 of Light Railway News encourages me to think of Australian industrial locomotives relevant to the "Century" theme. Perhaps the most obvious is the Clyde Model HG3R 060DH locomotive Centenary (64-381 of 1964) at Victoria Mill in Queensland, while preserved at Kununurra, WA, is a 1912-vintage "New Century" 060PM built by a German builder, quite possibly Deutz. Tully Mill in Queensland has as its No.17 Com-Eng 060DH AH42100 of 1975, the one hundredth Com-Eng industrial loco. At Wongawilli Colliery in NSW, Australian Iron & Steel had a Titan battery-electric personnel car numbered 100 in its man rider fleet. Steam locomotives are harder to find. Perhaps readers can find some further examples of units following this theme.
---

RESEARCH COLUMN
Harbordville, Palmer River goldfield, Queensland
Harbordville, on the Palmer River goldfield in far north Queensland,was the site of a two-kilometre 2 ft gauge tramline which ran from the Anglo-Saxon mine to the ten-stamp mill in 1890. Horses were used to haul the empty wagons back to the mine, with gravity being used for the full trucks. Two smaller tramways were also to be found on the Normanby field. (Information from Chasing the Rainbow by Grenville Pike, 1993). -
Clark Dam, Derwent River, Tasmania
The Journal of the Institution of Engineers Australia, Vol 22, Jan-Feb 1950, contains an article on the construction of Clark Dam on the Derwent River in Tasmania. The article mentions the use of 3 ft 6 in gauge steam locomotives used to haul stone from the quarry to the concrete batching plant, while two diesel locos hauled buckets of mixed concrete. This could provide the impetus for an interesting research project.-
British Phosphate Commission
The British Phosphate Commission records, including material relating to Christmas Island, Makatea, Nauru, Ocean Island and the Pacific Phosphate Co. are located at the Melbourne Office of the Australian archives. The main series noted so far are MP1174/1 (Christmas Island Phosphate Commission Reports, correspondence & memoranda), R32 (BPC photographs including predecessors and Christmas Island), and R91(BPC annual cost summaries). Research on Ocean Island (Banaba) is being conducted by Stacey M.King, PO Box 536, Mudgeeraba, 4213 - (075) 30 5298 - who publishes a newsletter every two months.
---

LOCOMOTIVE & ROLLING STOCK MANUFACTURERS
BUNDABERG FOUNDRY ENGINEERS LTD
(see LRN 98 p.2)
Walkers ex-QGR DH-class B-B DH DH51 (Walkers 633 of 1969), in very good external condition, was noted still in storage at the works yard in April.
TULK GONINON LTD, Mackay
(see LRN 98 p.3)
Work has been progressing on the rebuilding of three Walkers ex-QGR DH-class B-B DH locos for mills in the CSR group. The first is for Invicta Mill (601 of 1969) and was substantially complete on 6 May. It was expected to be despatched on about 11 May. It will now be receiving the name Giru, not as previously reported. The second loco (593 of 1968) is for Kalamia Mill and will be receiving the name Jarvisfield. The third loco (599 of 1968) is for Victoria Mill, and will receive its name at the mill. These two are expected to be despatched at about the end of May.
Meanwhile, DH70 (Walkers 657 of 1970) arrived on Wednesday 27 April, having been transferred to a road vehicle at the old Mackay goods yard rather than at the siding which runs from the QGR main line very close to the Tulk works. It is to be rebuilt for Mackay Sugar's Racecourse Mill. Another loco, DH68, (655 of 1970) is expected to arrive in about August for rebuilding for Invicta Mill for the 1995 season.
Editor 4/94, 5/94; Eddie Rogash (Tulk Goninon Ltd) 5/94
WALKERS LTD, Maryborough
(see LRN 98 p.3)
One of the three ex-QGR DH-class locos being rebuilt for Isis Mill was delivered to the mill early in May while the other two should be delivered within the following four weeks.
---

QUEENSLAND
BUNDABERG SUGAR LTD 610 mm gauge
(see LRN 97 p.7)
A Plasser KMX-12T ballast tamper has been delivered to the Bundaberg Sugar group, and was undergoing commissioning trials late in April.
CSR LTD, Herbert River Mills 610 mm gauge
(see LRN 99 p.7)
The Invicta Mill bridge crane had replaced the spans of the Gentle Annie Creek bridge (between Halifax and Lucinda) by 9 March, but was still present on that date along with Motor Rail "Simplex" 4wDM Smokey (4054 of 1929). Both had gone by 19 March.
Rinaudo's Engineering at Macknade has been producing new 4-ton bins for Victoria Mill. Rinaudo's are assembling the 450 on order, with Firmi's Engineering in Halifax making the sides and ends, with the frames and wheelsets coming from another source. On completion, they are taken by road the short distance to Macknade's Wharf Line, and when a decent rake has accumulated they are collected by a Victoria loco. Clyde 060DH Lucinda (65-436 of 1965) collected the first rake on 3 March, having taken a load of welded rails from Victoria to Seymour the day before and staying on site overnight.
There has been an increasing amount of inter-mill workings and use of motive power by the Civil Department. One example of this has been the use of the Macknade Motor Rail "Simplex" 4wDM 10232 of 1951 this slack at Abergowrie (Victoria Mill) with the Macknade thermit welding team. After the job finished, it was left at Victoria Mill.
A proposal from CSR for a cane railway extension south from Bambaroo is being awaited by existing and prospective cane growers from Kirkwoods Road south to Crystal Creek.
Australian Canegrower 21/2/94 via Chris Hart; Chris Hart 4/94
TONY GERMANOTTA, Kuttabul 610 mm gauge
(see LRN 94 p.12)
Tony Germanotta has disposed of Perry 062T 2601.1.51 of 1951 and two bogie carriages to Melaleuca Station, Chinderah, NSW (see LRN 99 p.5). They were delivered there in January. The remaining two bogie carriages have been sold to Mackay Sugar Asssociation, Marian Mill, for navvy use. Tony has retained his two diesels, Windhoff 4wDM 452 of 1940 and Gmeinder 4574 of 1949, which he intends to re-engine.
David Mewes 5/94; Tony Germanotta 5/94
ISIS CENTRAL SUGAR MILL CO LTD 610 mm gauge
(see LRN 98 p.8)
All six of the mill's Clyde 060DH Model DHI-71 locos were shipped to the Fiji Sugar Corporation around the end of March, making delivery of the three rebuilt ex-QGR DH class units from Walkers essential before the start of the crushing season.
Bob James 4/94; Tony Wells 4/94
MACKAY SUGAR CO-OPERATIVE ASSOCIATION LTD 610 mm gauge
(see LRN 99 p.8)
Work on Racecourse Mill's Balberra tramline extension has been deferred, probably to the 1995 slack season. The projected line includes a crossing of the QGR north coast line, and it is understood that this crossing has been agreed to subject to it being of the proposed new "drawbridge" type which is to be trialled on the Pioneer Valley branch line (see LRN 98 p.10). Successful trials of the prototype will enable an installation in a main line situation.
At Pleystowe Mill, it has now been decided that conversion work on ex-NSW SRA Walkers B-B DH 7313 (672 of 1971) will largely be carried out by local subcontractors, although the overall planning and design is still being done by the mill. This work is believed to include shortening the frame of the unit, and is still scheduled for completion in 1994. Of the remaining six 73-class locos obtained for Pleystowe and Marian, five will be rebuilt and the last will be used for spare parts.
Farleigh Mill's 350 new bins are being constructed locally by Westhill Engineering.
A comprehensive locomotive driver and assistant training and resource package is being developed to improve driver skills and crews' mechanical knowledge as well as promote safety consciousness.
Bob James 4/93; Mackay Sugar Newsletter 3/94 via Editor; Editor 4/93
MORETON CENTRAL SUGAR MILL CO LTD 610 mm gauge
(see LRN 99 p.9)
As forecast in LRN 95, work has begun on the rebuilding of Com-Eng 060DM Yandina (B1112 of 1956), with bodywork being removed for sandblasting. Mechanical equipment from Baguley 060DM Jamaica (3389 of 1954) is being prepared for fitting into the locomotive, and it would be assumed that a torque converter will be fitted as part of the rebuild. It is anticipated that the remains of the Baguley loco will be written off following the rebuild, and that the rebuilt ComEng unit will be renamed Jamaica.
PLANE CREEK CENTRAL MILL CO LTD, Sarina 610 mm gauge
(see LRN 99 p.10)
By early April, there was little sign of any activity associated with construction of the new tramline south of Koumala. It appears that construction has been deferred, but that it will be completed for the 1995 season. Funding problems involving Federal and State governments, the growers and CSR are thought to be a significant factor in the delay. Tamper Model TSR-RS sleeper replacement machine/scarifier 825817 of 1987 was noted outside the loco shed. It appears that this unit is shared between Plane Creek Mill and Inkerman Mill.
ROYAL QUEENSLAND BUSH CHILDREN'S HEALTH SCHEME, Leslie Wilson Home, Townsville 610 mm gauge
(see LRN 9 p.14)
The bush children's home at Rowes Bay was due to close in June 1994 following a reassessment of the scheme's activities. The fate of first world war veteran Hunslet 460T Invicta (1215 of 1916), which has been preserved here since 1967, is not currently known, but it is understood that its future has been secured.
Townsville Daily Bulletin 22/3/94 via Chris Hart; B.Lobb (RQBCHS) 5/94
SIMSMETAL, Townsville
A number of different types of narrow gauge wagons were noted through the fence of this scrap metal yard. One large four-wheeled wagon near the fence had large Willison couplers and appeared to be a Granby type, possibly 3 ft or 3 ft 6 in gauge.
SOUTH JOHNSTONE MILL LTD 610 mm gauge
(see LRN 97 p.10)
See Tully Sugar Ltd, below.
TULLY SUGAR LTD 610 mm gauge
(see LRN 98 p.11)
Following the successful fending off of take over offers from Tate & Lyle's Bundaberg Sugar during April, after a six month battle, a proposal to merge these two mills is being considered. There is even a possibility of Mulgrave and Mossman Mills being included at a later stage, as well as a possible proposal to purchase Mourilyan and Babinda Mills from Bundaberg Sugar.
Mackay Daily Mercury 6/5/94 via Editor
---

SOUTH AUSTRALIA
Smithfield Munitions Factory 610 mm gauge
The South Australian Group of LRRSA visited this defence establishment, now managed by private contractors, on 9 October 1993. A 2 ft gauge tramway , laid in a grid pattern, links the many storage magazines, and is constructed with 40 lb rail bolted to continuous concrete strips which are linked by spacers.
There were originally four Wingrove & Rogers "BEV" 040BE locos used on the site, although the coupling rods have all been cut off at some time, leaving just one axle powered. This has created some traction problems on overgrown track. One loco has been cannibalised for spare parts. (Builder's records show four battery-electrics supplied to the Commonwealth of Australia, Adelaide in 1942: 2216, 2217, 2230 & 2231 - Ed.)
The rolling stock is said to have been built by the SAR at Islington. There are over 20 four-wheeled flat cars, with detachable drop-on timber side rails, running on roller bearings and sprung axleboxes. Trucks of this kind have been fitted with basic roofs and used as passenger cars at the Moonta Mines tourist line.
The future of the site is increasingly clouded, with suburbia encroaching, and rationalisation of defence establishments in progress.
---

VICTORIA
BILL & DAVID BEST 610 mm gauge
(see LRN 99 p.12)
It is believed that the matter of the refusal of an export permit for Decauville 042T 246 of 1897 has been taken to the Commonwealth Administrative Appeals Tribunal, with hearing set down for August.
EMERALD TOURIST RAILWAY BOARD, Puffing Billy Railway 762 mm gauge
(see LRN 97, p.16)
Couillet 042ST John Benn (861 of 1886 as rebuilt by Ron Kain) and Beyer-Peacock 2-6-0+062 G42 (6268 of 1926) are still occupying most of the workshop's time. The frames of G42's rear unit have been assembled, and work is now to commence on the front unit. All four NA class 262T locos (7A, 8A, 12A & 14A), and the Climax 4w+4wTG (1694 of 1928) were in steam on February 5th, when three regular trains, the Commissioners' Special, and another special train were run.
Fully enclosed compartment car 24NB has undergone an almost total body rebuild at Emerald workshops, though fortunately enough parts have been recycled to retain a patina of old age, in places at least. It went into service in March, and looks magnificent.
NQG3, an ex-TGR ballast hopper converted to 2 ft 6 in gauge, has had extensive work done to provide an efficient method of dropping ballast from either the sides or the centre. It lacks elegance, being very wide for the gauge. It is to be used on the Gembrook ballasting operations, and was first used on 19 March at Gembrook.
Eleven Commissioners' Specials are scheduled to run in 1994. Four wedding reception trains were run in February, with another two in March.
Contrary to the report in LRN 97, the November 1993 work weekend concentrated on fitting missing sleepers to the existing skeleton track between Gembrook and Fielder, and ballasting work, rather than laying new track. There were no tracklaying work parties in December or January, but the February work party achieved spectacular results when 1,118 metres of skeleton track was laid by about 60 volunteers. This was all achieved by 4.00 p.m. on Saturday, by which time all available sleepers had been used. This remarkable achievement was made possible by careful preparation in the preceding days, and excellent weather conditions.
On the weekend of 19-20 March a further 550 metres of skeleton track was laid, and 450 sleepers were fitted to the existing skeleton track. This brought the railhead to Fielder station, 4.4km from Gembrook. Ruston & Hornsby 4wDM NRT1 (296058 of 1950) ran the first train to Fielder in over 40 years, on Sunday 20 March. The April work party will concentrate on fitting sleepers to the skeleton track, and ballasting. The Doonaha Road level crossing, just beyond Fielder station, is scheduled to be constructed on the weekend of 28-29 May. After that work will not resume at the Gembrook end until September. The gap between the two railheads is now 4.8km, and more than half the track between Lakeside and Gembrook has now been laid.
Ballast is one of the most expensive items in track laying, and PBM Readymix (a Pakenham Blue Metal Company) have generously agreed to supply all future ballast for the Gembrook project at cost.
The concrete foundations for the small Wright bridge were constructed in February. Below ground level the original piles for this bridge still exist, and the new foundations are on the same site as the original piles and cap them. Materials to build the bridge have been obtained, and it is hoped to have it finished by Christmas. Surveying work is being carried out at the big Wright bridge, where finding the sites of the original piles has proved difficult.
Current plans are to lay 1.85 km of skeleton track from Fielder to Cockatoo on the weekend of 17-18 September, and to fill it with sleepers, and ballast it on weekends in October and November. A start may also be made on building Cockatoo yard.
Although trains from Gembrook now officially terminate at Orchard Road, occasionally they go further. On Saturday 30 October the last train of the day ran almost to Fielder bridge to pick up walkers on the annual Walk G42 to Gembrook event. On Saturday 18 December the 11.00 am train ran to the same place. Apart from its normal passengers, it had two members of the ETRB Board and several Pakenham Shire officials and councillors on board. The official party travelled in the NQR open wagon.
On Sunday 28 February the last trains of the day were also scheduled to run almost to Fielder bridge, with a party of Steamrail Victoria Ballarat Branch members. The ballasted track ends just short of Fielder bridge.
On Saturday 26 March, after the last regular train, Peckett 040ST 1711 of 1926 ran one NQR wagon to Fielder, with a small number of volunteers as its passengers, taking over an hour for the round trip, the speed over the unballasted skeleton track being little more than walking pace. All the better to admire the scenery, which is superb. It was the first steam train to Fielder in over 40 years. On the way back a number of empty 44 gallon drums were picked up, which had contained dogspikes, fishplates, and track plates.
JIM PURTON, Ballarat 762 mm gauge
(see LRN 99 p.11)
Further details are to hand about the locomotives reported in LRN99, which are stored on a site off Fussell Street, Ballarat, adjoining the Anthony Joinery Works. They are seven of those sold at the Melbourne Water auction on March 17th 1993 (see LRN 94 p.19) as follows (information in brackets from Editorial records):
011                    Gemco       4wDH     (2707/PI.0472/?/68 1968)  
3277011                                                               

014                    Gemco       4wDH     2889/PI.0456/L621/ 1968   
3277014                                     68                        

027         Dzidra     E.M.Baldwin 4wDH     (3225-4-2-70       1970)  
3277027                                                               

029         Margaret   E.M.Baldwin 4wDH     (3225-2-2-70       1970)  
3277029                                                               

033         Tanna      E.M.Baldwin 4wDH     (5346-2-2-74       1974)  
3277033                                                               

                       E.M.Baldwin 4wDH     5366-4-5-74        1974   

 46                    E.M.Baldwin 4wDH     (6700-1-4-76       1976)  


The locomotives are stored on private property and permission to inspect should be sought from the joinery works next door. There is a report that Mr.Purton may also have a yard in Brisbane, Queensland, with two partners, and that locos may also be stored there.
---

WESTERN AUSTRALIA
Equipment for sale
Advertised for sale on November 27th 1993 were six Goodman battery d/c locomotives, four Gia DHS-12S locos (V6 Deutz engines, built 1981) and five Conway/Goodman type 100-2 Conway Muckers of "gauge to 42 inch". A Perth fax number (09) 451 4446 was given as the only contact detail. (Could the diesel locos could be four of the five Gemcos built for the Tasmanian Hydro Electric Commission in 1987? - Ed.)
West Australian 27/11/93 via David Whiteford
Victoria Square, Queen Street, Busselton 1067 mm gauge
The National Trust of Western Australia may register ex-Western Australian Timber Company 040WT locomotive Ballaarat as the first item of movable heritage to be registered in the state. Ballaarat was completed in 1871 at the Victoria Foundry, Ballarat, Victoria for the WA Timber Company, and became the first steam locomotive to operate in Western Australia when it was used on the Lockeville to Yoganup line. Ballaarat is believed to be only the fourth steam locomotive built in Australia, and is the earliest surviving one.
A cover was erected over the locomotive in 1991 or 1992 to provide some protection from the weather.
DIZZYLAMB, Waneroo 610 mm gauge
(see LRN 48 p.12)
This tourist attraction has purchased the Kless Engineering steam outline locomotive and rolling stock offered for sale by Tilden Orchard in February 1994 (see elsewhere this issue).
Gwalia 508 mm gauge
(see LRN 25 p.17)
The Sons of Gwalia woodline train formerly displayed at the old mine site is now next to the Gwalia State Hotel, its former home now part of an open cut mine. The 062T loco Ken (WAGR Midland, 1934), with bogie tender (John Fowler 14637 of 1916), two wagons, and the tanks off FOWLER (John Fowler 060 14636 of 1916) are "preserved" while in the former WAGR lie a cab roof and back, possibly from the loco Koppel (Orenstein & Koppel 062T 5081 of 1911). At the Gwalia Museum (where the ex-Sons of Gwalia headframe and winding machinery now are) are various mining kibbles and hoppers, some set up on short lengths of rail.
HANNANS NORTH TOURIST MINE, Kalgoorlie 610 mm gauge
This tourist attraction opened in February 1992, replacing the Hainault Tourist Mine (see LRN 87 p.17), which has now been dug out as part of the "super pit" open cut mine. Situated a few kilometres north of Kalgoorlie on the Leonora road, this site is an expanded, neater version of the Hainault with many surface buildings and machinery on view that has been transported from various mine sites or else built in replica. The underground operation is a genuine mine although tourism is now the only commercial activity. On the surface a one-kilometre "figure of eight" railway has been laid to convey tourists around the attractions with driver operated p.a. commentary and stops to inspect some of the buildings. Various halts on the line have been named for former Kalgoorlie-Boulder suburban stations (e.g. Hannan Street, Brown Hill), and passengers can join at any halt. However, there is no provision for easy disembarkation at any but two or three 'official' stops on the run. The train is hauled by one of two or three small (Gemco?) 4wBE locomotives (with no identifying marks) and has four cage type four-wheeled carriages.
Unfortunately, misleading advertising has given the impression that underground trains were also operated but a visit in September 1993 has confirmed that there is no such operation - although leaflets still handed out at the mine say that there is! On the tour level of the mine is a short, corroded, mine tramway with Eimco bogger model 12B S-P-N 12966-2-A-82, an unidentified Gemco loco and one standard skip - but there appears to be no likelihood of operating underground trains.
A machinery compound includes a large collection of mining rail equipment - boggers, locos and hoppers - but they are not restored or on official display.
The whereabouts of former Lake View & Star F.C.Hibberd "Planet" 040DM 2011 of 1937 and hoppers formerly displayed at Hainault is unknown although they have not been transferred to Hannans North.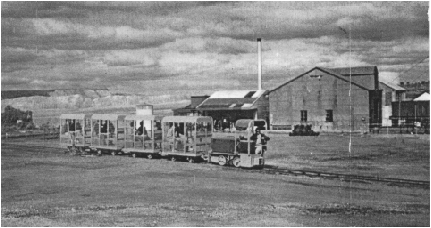 Hannan's North tourist mine train, Kalgoorlie, September 1993, with typical mine buildings and mullock heaps in the background.
ROTTNEST ISLAND AUTHORITY 1067 mm gauge
(see LRN 90 p.15)
Although the new tourist railway on the island was completed in late 1993, trains were not due to commence until June 1994. By November 1993, more than 165 $40 sleepers had been sold as a fundraising campaign and Shell Australia which supplies Rottnest Island with fuel, will donate a portion of the money spent on fuel by the Island towards supplying fuel for the railcars. Gemco has donated two trailers, worth about $6000 for use on the railway. The trailers will be designed and built by Gemco in Osborne Park. Negotiations are underway for one of the ex Westrail shunting tractors to be used on the island. The ARHS (WA Division) is believed to have obtained one of these 4wD 1966-8 constructed units, and this may be the initial, though not permanent, motive power.
Thirty soldiers from the Australian Army's School of Artillery at Manly, NSW, visited Rottnest in November 1993 and among community projects undertaken by the men was the removal of some of the few remaining sections of old rails from the route of the new island railway.
Rottnest Island Authority hopes to commence passenger trains by June 1994. Ex-Westrail flat top container bogie wagons are being turned into the "Quokka Express" for use on the line, but special hybrid train-trams (the Gemco contribution?) are being developed to eventually replace the wagons. It is intended to have four self-powered trams, driven from either end, on the line.
Rottnest Islander 11/93, 12/93; David Whiteford 3/94, 4/94
TILDEN ORCHARD, Harvey (former Harvey Fruit Bowl) 610 mm gauge
(see LRN 70 p.14)
On 12 February 1994, tenders were invited for the "purchase and removal on an as is where is basis of 4 cylinder Cleff Engineering Fairground locomotive , 3 carriages (seat 24 ea.) and 2.4km 45lb 28 inch (sic) gauge track". Tenders closing on March 11th were to be sent to Tilden Orchard, Harvey. This is the former "Harvey Fruit Bowl" or "Big Orange" railway which opened on 26 December 1986 beside the South Western Highway on the approach to the town from Perth. The original developer of the complex envisaged a "Big Pineapple" (Queensland) type of operation with the railway running through the orchards with commentary on the many fruits and nuts grown there. It was also hoped to establish a small zoo, water playground, and other features that would have been served by the railway, but with changes in ownership the whole tourist operation has gradually been wound down.
The locomotive is actually a steam outline 4wDH(?) 4.8 tonne Kless Engineering product, and the coaches were built on site using wheels built by Connellan in Queensland. The stock has rarely been stored under cover, and is believed to have been largely unused for over a year. A later report indicates that the equipment was sold to Dizzylamb, Waneroo.
West Australian 12/2/94; David Whiteford 3/94, 4/94
WATER AUTHORITY OF WESTERN AUSTRALIA, Shenton Park
The government of Western Australia is constructing a $5 million, one kilometre, sewer tunnel at Shenton Park. Rail operation is used in the tunnel, but further details are unknown at present.
Subiaco Post 15/3/94 via David Whiteford
WESTERN AUSTRALIAN LIGHT RAILWAY PRESERVATION ASSOCIATION Bennett Brook Railway, Whiteman Park 610 mm gauge
(see LRN 99 p.14)
Henschel 2-8-2 NG15 118 (24476 of 1938) has passed all major steam test hurdles, and 1994 operations are envisaged. Franco-Belge 2-8-2 NG15 123 (2670 of 1951) was named Fremantle during a ceremony at Whiteman Village Junction station on October 10th 1993. The then Federal Treasurer and member for Fremantle, Mr.John Dawkins performed the naming. Fremantle was named for the port of arrival of the locomotive in WA and has other significance in that the Whiteman Park land was once owned by the Midland Railway of Western Australia, and there was also a Midland Railway locomotive named Fremantle. Loco 118 is to be named Elizabeth after Port Elizabeth in South Africa.
WALRPA is installing the former Midland Workshops 80 foot turntable at Whiteman Village Junction as the first stage of future running sheds to be established there. The girder is now in place and the finishing off of the pit will be the next stage of work.
Rusty Rails various issues via David Whiteford 3/94
WESTRAIL, East Perth Terminal 1067 mm gauge
WAGR four wheel composite carriage AI 258 was placed on display in the foyer of East Perth Terminal on 19 October 1993. AI 258 was one of two carriages built by the Metropolitan Railway Carriage & Wagon Co Ltd, Birmingham, at a cost of £380 each for use on the first WA government railway - Geraldton to Northampton. It was delivered in 1876 and ran on the WAGR until sold to the Goldfields Water Supply for use on the then private Mundaring Weir railway around 1900. From 1912 to 1962 it operated on the Carnarvon town to Babbage Island jetty railway before being sold for use as a storage shed. 258 was eventually rescued but sat at the jetty depot and then the Lighthouse Cottage Museum at the mercy of vandals for a few years before Westrail brought it to the Midland Workshops for full restoration. Various plans for 258 included display at Perth Station but after over two years waiting, it is now at East Perth Terminal for all to see.
Jeff Austin & David Whiteford 10/93
---

STOP PRESS:
It is reported that Charlie McClelland's Hunslet 4-6-0T (Frankston, Victoria) and Keith Watson's Freudenstein 0-4-0T (Perth) - both 2 ft gauge - have been offered for sale. The latter has been advertised overseas.
---

OVERSEAS - FIJI
FIJI SUGAR CORPORATION 610 mm gauge
(see LRN 96 p.19)
Some 15 to 20 line cars are still said to be operated by Fiji Sugar Mills. Recently, six ex-SRA of NSW line cars were purchased at auction by Sydney-based FSC Services, overseas agents for Fiji Sugar, for shipping to Fiji and conversion to 2 ft gauge.
Of the six Clyde Model DHI-71 060DH locos purchased from Isis Mill (see LRN 98 p.8), the four complete with cabs are expected to be in service in the 1994 season. The other two may not be ready for service until 1995.
Con Van Wensteen (FSC Services) 5/94
---

MEETINGS
MELBOURNE
Western Australian Railways and Tramways
Ted Godwin will be showing some of his extensive collection of slides depicting Western Australian railways and tramways.
LOCATION: Ashburton Uniting Church Hall, Ashburn Grove, Ashburton.
DATE: Thursday 9 June at 8.00pm.
SYDNEY
Any member wishing to know details of the next meeting should call Craig Wilson on 02-4847984
LOCATION: Woodstock Community Centre, Church St Burwood
Note: Plenty of off street parking at the rear of the building and Burwood station is only a 5 minute walk away.
DATE: Wednesday 22 June at 7.30pm
ADELAIDE: Contact Arnold Lockyer for details. Phone: 08-2969488
LOCATION: 150 FirstAvenue, Royston Park
---
---
This page is prepared and maintained for the LRRSA by Frank Stamford and copyright © by LRRSA. Last updated on 1 August 1996.
HTML by Brunel Gooch Information Systems Pty Ltd.
---