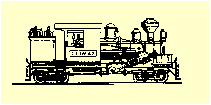 Light Railway Research Society of Australia Inc
---
The Innisfail Tramway
The History and Development of the Geraldton Shire Tramway and the Mourilyan Harbour Tramway
By John Armstrong & G. H. Verhoeven


Expected publication date: 31 July 2000
128 pages, A4 size, 99 photographs (12 in colour), 8 maps and 14 rolling stock diagrams.
Soft cover: $29.95 (including GST), plus postage. (Weight 550 gm)
Hard cover: $37.90. (including GST), plus postage. (Weight 700 gm)
The Innisfail Tramway was first published by the Australian Railway Historical Society Queensland Division in 1973. This new edition published by the LRRSA is completely revised and updated. It contains much additional material in text, photographs, maps and diagrams.
The Innisfail Tramway is designed in the same style as other recent LRRSA books. It describes the 2 ft gauge tramway built one hundred years ago by the Geraldton Shire Council, and subsequently taken over and operated by the Queensland Railways until sold to private operators in 1977. Although primarily concerned with sugar transport, for many years the tramway provided a goods and passenger service. There were 13 steam locomotives, 9 diesels, 13 passenger cars, four vans, and approximately 250 goods vehicles.
Pre publication price for LRRSA members for orders received by 31 July 2000 ·
Soft cover edition $20.00 plus postage

Hard cover edition $22.75 plus postage
---
Contents
Foreword and Acknowledgments
Introduction
1 Background
2 Geraldton Railway Proposals
3 Building the Geraldton Tramway
4 Early Tramway Days
5 The Original Mourilyan Tramway
6 Innisfail and Mourilyan Lines
7 District Tramlines
8 The Government Era
9 Station and Track Alterations
10 Mourilyan Harbour
11 Locomotives and Rollingstock
12 Staff and Administration
13 Later Developments
14 Sale or Sell Out
15 Reminiscences
Bibliography and References
Appendix I - Locomotives of the Innisfail Tramway
Appendix II - Rollingstock of the Innisfail Tramway
Appendix III - Combined List of Stations and Siding
---
This page is prepared and maintained for the LRRSA by Frank Stamford and copyright © by LRRSA. Last updated on 29 May 2000.
HTML by Brunel Gooch Information Systems Pty Ltd.
---